Google Forms is a useful tool for collecting information from a large group of people. You can use the forms you create to make contact lists, send out surveys, manage registrations, and more. Like all Google Docs, multiple people can edit your form at the same time before sending it out.
This tutorial assumes that you have already made a form, and now you want to see and analyze your results. If you need help making a form, check out my tutorial here. Watch for more tutorials on advanced Google Forms features & formatting coming soon.
1.If you are sending a form for the first time, you will be asked to set up the response destination. This is where you will review the information that the form collects. You can choose to create a new spreadsheet, add to an existing spreadsheet, or keep responses only in Forms. If you originally chose to keep responses only in Forms, you can move your data to sheets after the fact by clicking Responses>Change response destination in the Forms menu.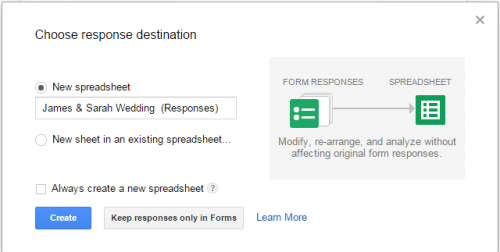 2.To view responses in Forms, click on Responses in the menu, and select Summary of responses to see the collected information.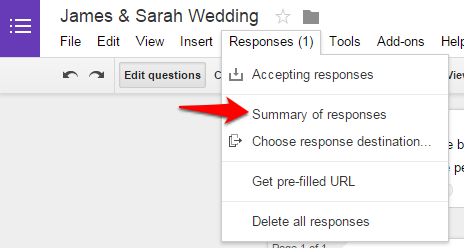 3.The summary of responses will include graphs depicting the spread of responses. Answers to text/paragraph questions will be shown. You cannot manipulate the data in any way from this view. You will have to head over to Sheets to do that.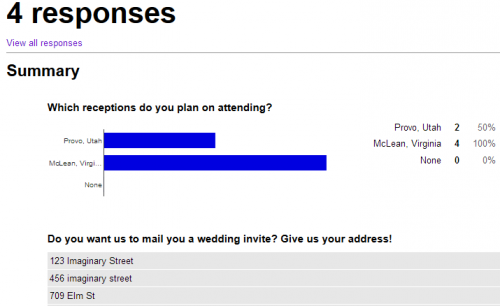 4.To view your collected data in Sheets, Click the View Responses button in the Forms menu. Sheets will open in a new window. You can also access your data by opening the spreadsheet through your Drive or Sheets. The only data found here that is not in the Forms summary is the timestamp of each response. You are now free to format, graph, and analyze your data to your heart's content.