Google Forms is a helpful tool for collecting information from a large group of people. You can use the forms you create to make contact lists, send out surveys, manage registrations, and more. Like all Google Docs, multiple people can edit your form at the same time before you send it out. Forms will organize the responses with real-time charts, or you can view it in Sheets for more thorough analysis.
Through what is called Data Validation, Google Forms gives you the option to check that users answer your questions the way you want. For instance, you can make sure that if you ask for an email address, the response typed in is, in fact, an email address. When used correctly, Data Validation can save you considerable headaches by preventing intentional and unintentional errors. You can use data validation on the following types of questions: text, paragraph text, checkbox, and grid.
Note: Data validation is not available in the new version of Forms.
1.Open or create a Google Form, and write your questions. If you need help with this step, check out my tutorial here.
2.Each type of question has a unique set of data validation features. Here is what they all have in common: you always access data validation by expanding the Advanced settings at the bottom of the page. Check the box for Data validation, set up your validation rules using the drop down menus, and then add an optional custom error text. The custom error text is what the respondent will see if they answer your question incorrectly. For example, suppose you have a question that requires the respondent to answer with a number ranging from 1-10. If someone types in a non-number or a number outside that range, you could have the custom error text appear "answer must be a number from 1-10."

3.Text: You can set your validation to only accept a certain type or range of numbers. You can also limit the text that will be typed in to contain or not contain certain words or phrases, or you can make sure that what is entered is a URL or an email address. The other option is to enter in a regular expression, which you can read about in my article here.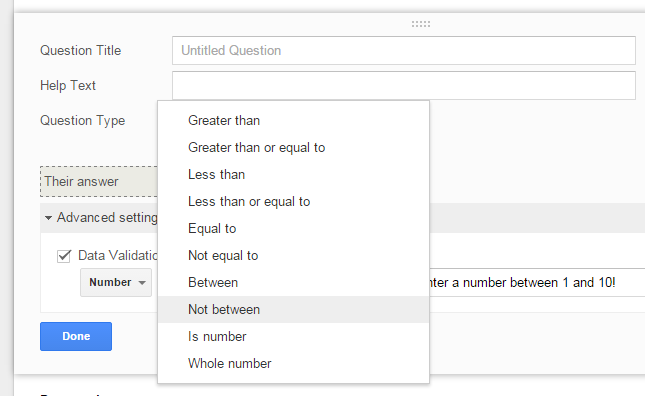 4.Paragraph Text: Your options here are to set a minimum or maximum character count or to use a regular expression.
5.Checkboxes: Select how many boxes users can check. You can set a minimum, maximum, or an exact number. 

4.Grid: A grid is an advanced question type with rows and columns. (An example is shown below.) The only data validation here is that you can choose to limit users to one response per column or row.