If you find yourself searching for the same things over and over again on the internet, Google Alerts are there to make your life easier. Google Alerts allow you to keep up-to-date on whatever specific topics you fancy. Google will automatically send you an email with the latest news related to that topic. This way, you can keep yourself on top of your favorite topics and have everything sent to your email without having to use Google Search.
1.Go to google.com/alerts.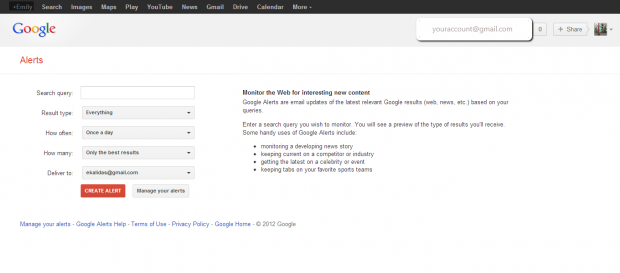 2.Type in a specific search query. Try to avoid overly general terms such as "soccer" or "cell phone," and be as specific as you possibly can. Of course, if you are following a well-known person like Bill Gates, his name will most likely be enough to provide you the best results.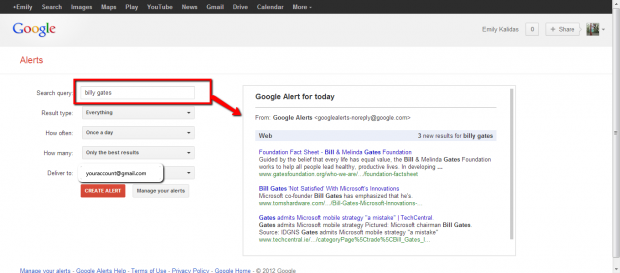 A preview pane on the right will show you recent results and help you determine if your search query is accurate. There is no limit to the length of the phrase you can use in your query,
3.Next, select the result type you prefer. This will depend on what you are looking for. Selecting News, for example, will only show results that appear on Google News. The same goes for the Blog, Video, and Book options.

4.Now, choose how often you want to receive updates. If you have a very broad topic, selecting Once a day will fill your inbox. You can also filter and select Only the best results or All results.

5.After selecting all your preferences, your alert will be created.

6.You can add as many alerts as you wish by clicking Create a New Alert. Your alerts can also be edited at any time.

Google Alerts is ideal for both business and pleasure. From keeping current on a competitor to simply getting news on your favorite sport teams, staying on top of the latest information has never been easier.