Google Maps is a powerful tool that gets used billions of times a day around the world. Many of us would be quite literally lost without it. You type in where you want to go, and Google Maps will give you multiple options on how to get yourself there using a car, walking, or taking public transportation.
A lesser known feature is that Google Maps will allow you to tweak a route. I use this feature to see how far I ran on my morning jogs around the neighborhood. I definitely do not take the most direct route as recommended by Google Maps, but I can drag the route to match where I ran and get the measured distance. This feature is also handy if you want to plan a detour or lunch break into your road trip plans. Here's how to customize a route in Google Maps.
Note that this set of instructions is relevant to the web version of Google Maps, not the mobile app version.
1.Type in your To and From addresses to get directions. Google Maps will give you a few route suggestions that will be listed in the left panel and displayed on the map. The selected route is displayed in blue with yellow and red traffic overlays. The alternate routes are shown as grey lines on the map. Google Maps will give you a distance and travel time with and without traffic for each route. You can switch between them in the map or in the list panel.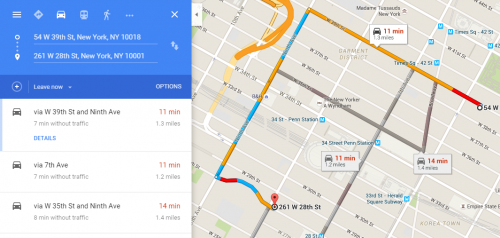 2.To manually tweak your route, hover your mouse over the part of the selected route where you want to branch off. A circle will appear under your cursor. Click and drag the route over to the road you want to take.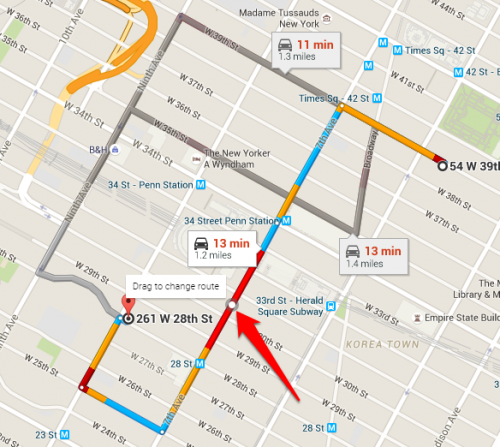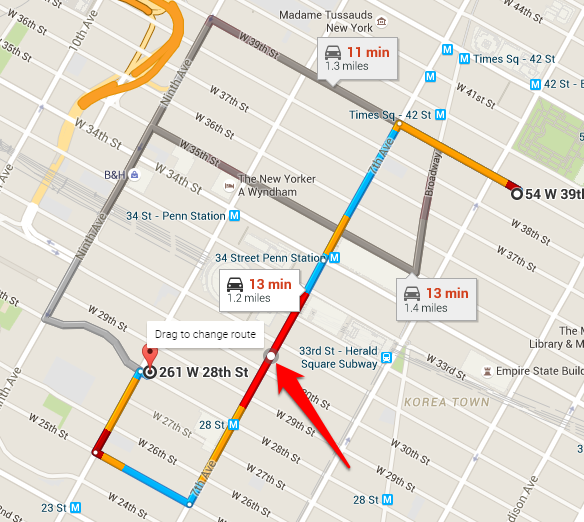 3. You can drag your route all over the map with as many route changes as you would like. The route change circles will stay on the drawn route. Clicking on a route change circle will delete it, and that segment of the route will go back to the original.