Do you want your tweets to be automatically posted on Facebook? Here's the right article to read. This article will show you how to post a tweet to Facebook.
Twitter is one of the "best" social media advertising tools. Did I just say "best"? Yes, I mean it.
Have you ever wonder why your products or brands are not as sold as that of Mr. A? That's simple, it's called networking. Twitter happens to fall among the best networking platforms. Its speed is excellent, the news feed is eye-catching, and it has lots of users. I mean LOTSSSSSSS.
Isn't all this what you need to improve your marketing scale? Get up from that obsolete and outdated marketing strategy of yours and trend with the trending marketing tool "twitter".
Twitter has the features that support connecting your email address and your website to your twitter account without stress. This means that, once you connect your twitter account with your website, every post made on your website will be automatically updated on your twitter account and also a notification will be pushed to your email address as well.
Isn't this propitious enough? With this feature, your brand or product is on the go.
Another fascinating part of it is that you can share your twitter post directly to your Facebook account without having to repost on facebook. Your post on twitter is visible to the public at large, meaning that it gets to millions in just a few minutes.
This article will show you how to connect your Twitter and Facebook accounts together in such a way that your Tweets will be automatically posted to your Facebook account wall ( either your main page or your fan page).
How to Post A Tweet To Facebook
1. Open Twitter. Go to https://www.twitter.com If you aren't already logged in, enter your email address (or Twitter username) and password to continue.
2. Click your profile icon. It's on the top-right side of the Twitter page, just left of the Tweet button. A drop-down menu will appear.

3. Click Settings and privacy. This option is near the bottom of the drop-down menu.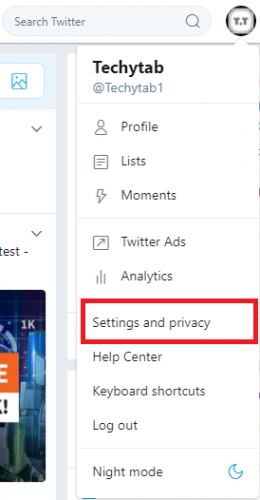 4. Click the Apps tab. You'll find it on the left side of the page.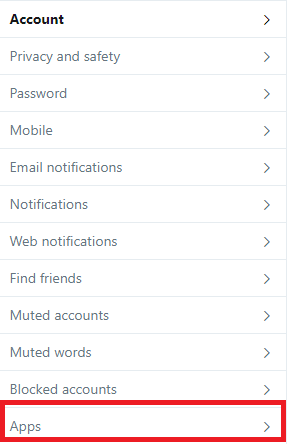 5. Click Connect to Facebook. It's to the right of the Facebook icon at the top of this page.
The Connect to Facebook button will take a second to appear.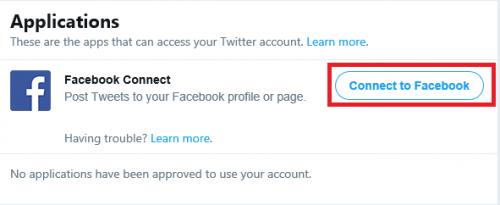 6. Log into Facebook. Enter your email address and password, click Log in, then click Continue as [Your Name].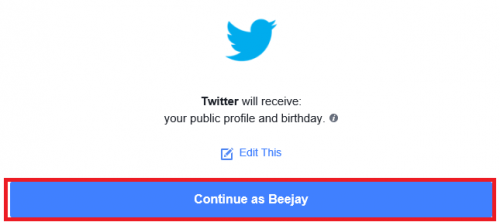 7. Click OK.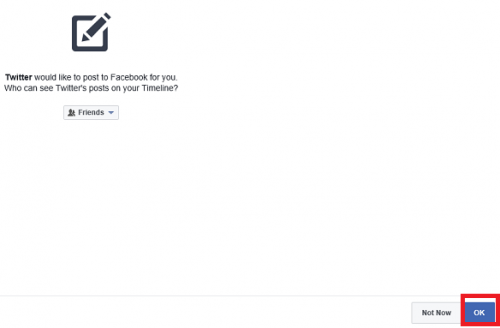 NB: Replies to tweets or retweet on twitter will not be posted on your Facebook.
If you have a Facebook Fan Page, or you are an admin of a particular Facebook page, you can post Tweets and Retweets from your Twitter account to your Facebook Page.
Privacy notes
To control who sees your Tweets, Retweets and username, you can go to your Facebook Application settings and click on Edit, for the Twitter app to restrict who can see your Tweets and Retweets on your Facebook wall.
When you connecting your Twitter account to Facebook, the Facebook authentication screen will display the information of the Facebook account that you authorize sharing with Twitter, including your public profile and birthday. This information will allow Twitter to cross-post between Twitter and Facebook.
If your Tweets do not post
Make sure the box to Post your Tweets to Facebook is checked, in your Twitter Apps settings. Try disconnect and reconnect again.
Frequently Asked Questions and Answers:
Q: Will my tweets and re-tweet be posted automatically without having to share?
A: Definitely, it will be automatically posted to your Facebook wall/fan page and also still appear on your twitter as well.
Q: Will all comments on my tweet and retweets appear on my Facebook wall too?
A: No.
Q: I want to post a tweet to Facebook but the "connect to Facebook button doesn't appear on Twitter, how can I solve this?
A: I have been in your shoe, all you have to do is use a different browser and if you are lucky enough like I was, the connect to Facebook button will appear. After this is done, you can go ahead with the other steps to post a tweet to Facebook