Hey there, Here's another tech tutorial our cookbook. Today's article is basically about Facebook. I am sure you know what a list is and how it looks like, yeah? Okay! I will show you how to post a list on Facebook with so much ease. It is really simple to accomplish. All you need is your Android device handy and data connection.
Facebook keeps making us happy with the new and amazing updates that come packed with new features that make Facebooking fun in every way. I mean, who doesn't like new features? In the past months, Facebook has succeeded in keeping its users glued to their devices by throwing in new features like Facebook Poll, Sharing GIF on a status update and a bunch of other cool features.
Although there are lots of new things to talk about, this article is going to be centered on teaching you how to post a list on your Facebook timeline. Wanna know something cool? as of now, this feature isn't quite known by a lot of people, you could actually be the first to use it for your friends to see. Using this will totally place them in that "WOW" state.
How useful is the List feature on Facebook? Well, for starters, you can post a well-organized list of lost of things like your favorite food, movies you want to see, things that make you smile, places you want to visit, your goals for the year, friends you miss and just about anything else. It's all for fun really.
Here's how to actually post a list on Facebook.
How To Post A List On Facebook
1. Open Facebook App on your device.
2. Tap on Whats on your mind.
3. Scroll down and select List from the list of options.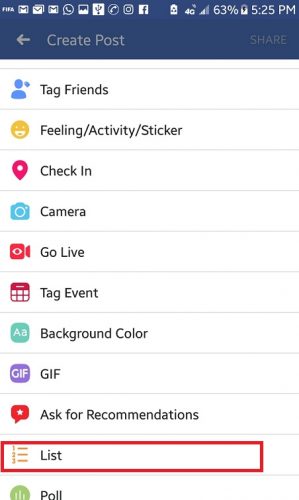 4. Select a topic from the popular list topics or create a custom topic by tapping on "create new".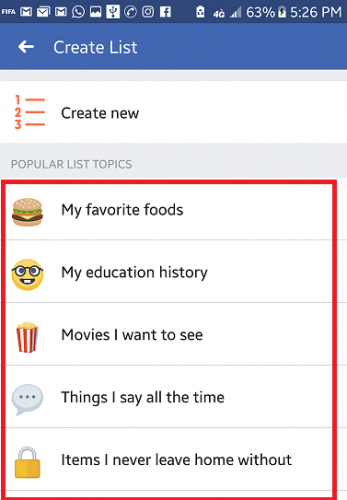 5. Add Items by typing in items, you can add more items by tapping on Add another item.
6. After you have completed your list, tap on the share button at the top-right to share the "list post" with your Facebook friends.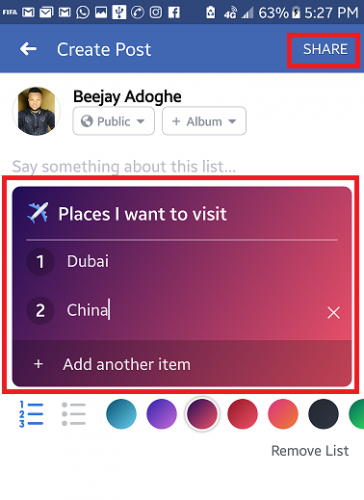 That's basically how to post a list on Facebook. It wasn't hard, was it? There are lots of topics to choose from the topic list. If you can't find a topic suitable for you, you can simply create a topic and add items. Another thing you can do is tweak or change the color of your list, you can also choose if you want your list to appears as a bulleted list or a numbered list.
Thanks for stopping by. I hope you enjoyed reading this as much as I enjoyed writing it. Don't forget to share!
Frequently Asked Questions and Answers
Q: Is there a limit to the number of times I can post a list on Facebook?
A: No, you can post as many bulleted lists or numbered list you want to.
Q: Can I do a post a list using Facebook web?
A: Sure you can, just click on the utility ( 3 dots icon) beside the feeling/activity button and click on list.
If you loved reading this article, you should check out other articles like this;
How to Add a Video Profile Picture on Facebook
Download Facebook Live Video in Easy Steps