Facebook is always rolling-out new and unique ways for its users to post content. However, most  Facebook users face frustrating problems when using these new features. Not everyone is well-acquainted with how the social media giant works. In desperate times like these, a Facebook representative can reach out to you and rid you of your worries. Many people get their account blocked or have problem figuring out how to report a certain problem. In graves cases, you might feel the need to abuse span or hate speech
(Which is quite pervasive on Facebook).To help people you in this regard, Facebook has introduced a "report a Problem feature" that has been specifically designed to address the concerns of their highly esteemed users. In this tutorial I'm going to tell you how to contact facebook support in simple and easy steps.

In this tutorial, we'll learn how to contact Facebook Support in simple and easy steps.
How to Contact Facebook Support(step-by-step Instructions)
By using the Report a problem feature, you can give general feedback, report abusive contact or get instructions on how to use a particular feature.
1.First of all, go to your Facebook Timeline or your Home page. On the top right corner, you'll see a question mark. Click on it, scroll down to the Report a problem option and select it.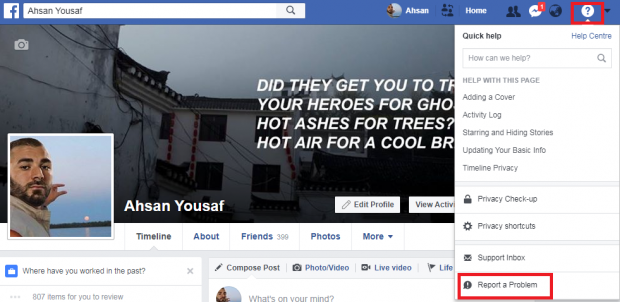 2.In the next window,three options will appear in front of you. Choose either, according your preferences and follow the onscreen instructions.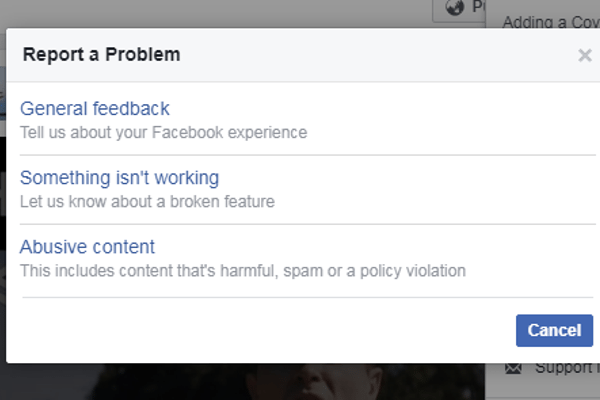 That's how simple it is to contact Facebook support and get all the help you need.
Facebook support is not useless like other customer support centers. They actually value their users and go above and beyond to assist them in time of need. I must say that Mark Zuckerberg and his team have done a commendable job with this feature. I personally used this feature to report hate speech and I got an immediate response from on of the representative. He assured me that the abusive comment will be removed and a warning will be sent to the poster. so, if you have any problems, I advise you to contact Facebook support which is not only effective and efficient but also cordial and inviting.
Still having some problems with reporting issues on Facebook? Check out this FAQ. It will clear out all your confusions.
Frequently Asked Questions
How do I report a login issue on Facebook?
If you're reporting a login problem, you're obviously locked out of your account. In a situation like this, you can contact Facebook support through the following link.
Report a Login issue
Is there any way to get in touch with Facebook through Email?
No, Facebook doesn't permit users to contact them through Email due to security reasons. And to be honest, there's no need to contact them via email when you can just report the problem directly from your profile.
So, this was a pithy instructional article on how to get in touch with Facebook. I hope it has helped you. If you have any feedback or general questions, please don't hesitate to ask them in the comments section below.
An established copywriter, with a longstanding experience in a vast array of industries, including but not limited to spirituality, technology, cannabis and travel.