Samsung Galaxy S9's camera is its main selling points. No wonder Galaxy S9 has the tagline, "The camera. Reimagined." Samsung's flagship model for 2018 is without a doubt has the most advanced Samsung camera which the company claims to adapt to light like the human eyes automatically. Here's how to use Quick Launch Camera on Samsung Galaxy S9.
Samsung Galaxy S9 sports a rear super speed dual pixel 12MP auto-focus sensor camera designed to capture one's day-to-day events. The rear camera supports these modes: Food, Panorama, Auto/Pro, Super Slow-Mo, and Hyperlapse. The phone's front camera has an 8MP auto-focus sensor that's perfect for self-portraits. The front camera supports these modes: Selfie, Selfie Focus, Wide Selfie. Check out this article to learn how to enable the Quick Launch Camera on Samsung Galaxy S9
How to Use Quick Launch Camera on Samsung Galaxy S9
To go to your Galaxy S9's Camera app the fastest way, do these steps:
1.Go to your device's Apps screen by swiping up or down from the Home screen.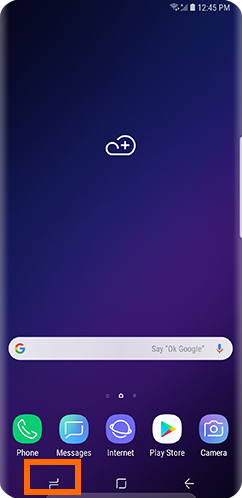 2.From the Apps list, locate and open your phone's Settings.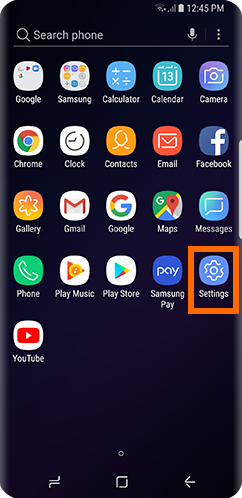 3.From the device's Settings, scroll down and tap on the Advanced Features.

4.From the Advanced Features page, tap on the switch button for Quick Launch Camera. A lighted blue button means that the feature is turned on while a grey switch button means that the feature is turned off.

5.You have enabled the Quick Launch Camera feature on the Samsung Galaxy S9. You can now quickly open your phone's camera app by pressing the Power Key twice.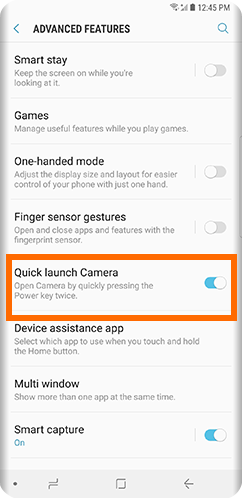 Frequently Asked Questions
Q: I am using a third-party app as my default camera app. Will the feature still work on my phone?
A: The Quick Launch Camera feature is offered to quickly launch Samsung's native camera app. You need to manually launch third-party apps as the quick camera launch feature is only available for the camera app that came with the device.
Q: Will the Quick Launch feature work if I am using an app?
A: The Quick Launch feature overrides any activity. Thus, any opened app will automatically be minimized, and you will quickly go to your Camera app to capture anything using your phone.
Q: Will the Quick Launch feature work if my device is locked?
A: Quickly pressing the Power button twice triggers the Quick Camera Launch feature even if your device is locked. You will no longer be asked to enter your passcode, fingerprint, or any other authorisation. You can take pictures and videos afterwards though all other phone features and functions are not available until you unlock your phone's screen.
Q: Will the Quick Launch feature work if my device's screen is turned off?
A: Samsung's Camera Quick Launch feature works even if your phone's screen is turned off. As explained in the previous answer, you need to enter your authorization pass to use the device for other functions as the available app will only be the native Camera app.
Samsung's Galaxy S9 is considered best of its class. Considered as one of the top phones for the year, Samsung's 2018 flagship phone is expected to be packed with great features – including a state-of-the-art camera. You just learned how to launch the Camera app on Samsung Galaxy S9 quickly. If you have questions about any of the steps outlined above, let us know in the comments section.
If you liked this article, you might want to check on these related Samsung Camera articles we have chosen for you:
Samsung Phones: Take Photos Without Touching the Screen
How to Change Android Camera Settings
How to Resize Images from Your Camera or Smartphone
How Do I Take Wide Selfies Using My Galaxy Note 4?
How Do I Activate the Camera Flash for Incoming Calls or Messages on My Samsung Phone?