Have you ever thought of how to create shortcuts on your home screen by adding widgets? Well, you don't have to think so much anymore because, in this article, I will show you how you can add widgets to android.
What is a widget? Without knowing what a widget is, you won't be able to experience what we are about to show you. So, I'll give you an abridged definition of a widget.
A widget can be described as an application extension that is a part of a large application installed on a device. A widget works handy with an application and this makes accessing easy. A widget is an essential part of a home screen customization, they come in different sizes and shapes.
Most widgets are embedded in Android's simple settings and could be easily assessed by using the simple working features on the android device. Widgets are very important to Android devices, it makes accessibility easy for features like; contacts, weather app, messages and even social media apps.
Widgets could also be downloaded and installed on the android device by external means; what I mean is you can get widgets via the android or apple app store. When downloaded and installed, you should refresh your android device home screen or Android device app drawer to immediately activate the widget to the widget section on the home screen settings.
You can also access the newly installed widget through app drawer. If you need more info on what your app drawer is? Well, this could be explained to be an icon on your Android device that allows you to access your apps, both system apps and installed apps from the app store or SD card.
How To Add Widgets To Android
1. Use the overview button or just press and hold on an empty space on your Android home screen. 
When you have done that a list of options will come up, among which will be the widget option.
An overview button, formally called the recent button, can be represented by a square (mostly in android version 6.0 and above) or broken lines (mostly in android version 4.0), the position varies in various Android device devices.
2. Tap or select the widget you want to add.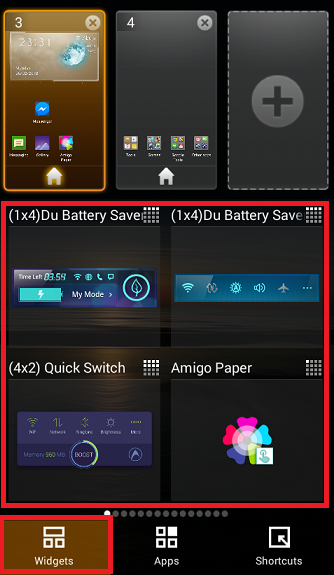 After all, said and done, widgets are very important to Android devices, they allow easy access to the system and social apps. Without widgets, one could say "android devices would be boring".
So, I hope these steps help you customize your Android device home screen to your taste.
A wise man once told me, Everything that has a beginning has an end. We've come to the end of this article on how to add widgets to Android. We love it when you share. Kindly click on any of the share buttons below to share this article.
Thanks for reading.
Frequently Asked Questions And Answers
Q: How many widgets can I apply on my home screen?
A: As much as your phone home screen can carry, it also depends on the size of the widget and space on your home screen.
Here are some articles related to Android;
How to Enable Notification Sounds on Android
How to link an Android phone with Windows 10
How to pair Bluetooth device to android