Since the Settings section on the Galaxy S5 is crowded with many options, Samsung has added a Quick Settings section that allows users to access the options they use most frequently without having to scroll through several unnecessary ones. While the section is populated with many helpful items by default, you may want to customize it with your own list of options to take full advantage of the feature. Continue reading to find out how.
Note: Even though this tutorial is written for the Galaxy S5, the steps can be applied to other Samsung phones running the latest Touchwiz software. If you find the icons below are similar to the ones on your phone, you should be able to follow the tutorial without any problems.
1. In order to rearrange the options inside Settings, open the app drawer, and tap the Settings icon.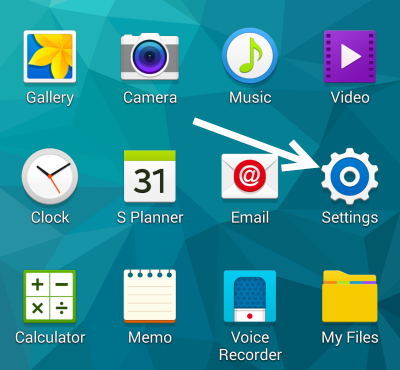 2. Within the Settings screen, you will find a menu button at the top right of the screen. Tap on it, and choose Edit quick settings from the list. Depending on the view of your Settings screen, the layout may look different from the screenshot below. However, the menu should look the same.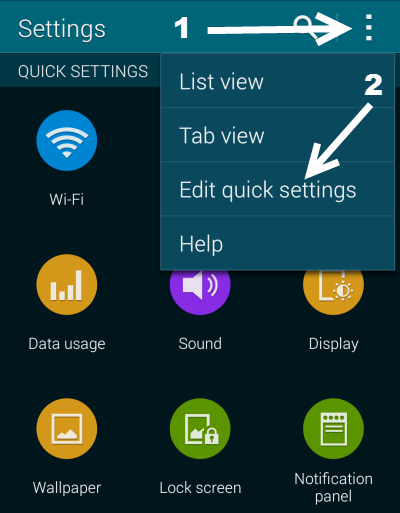 3. In edit mode, you will be able to select or deselect setting options to display in the Quick Settings section at the top. If you select an option, a new shortcut for it will be created and moved to the top of the list. Options which are not selected will stay in their original positions. You are allowed to add up to 12 items to the section, so choose wisely.
The order of the shortcuts depends on their original positions. If an option is listed at the top, it will also appear at the top of the Quick Settings list.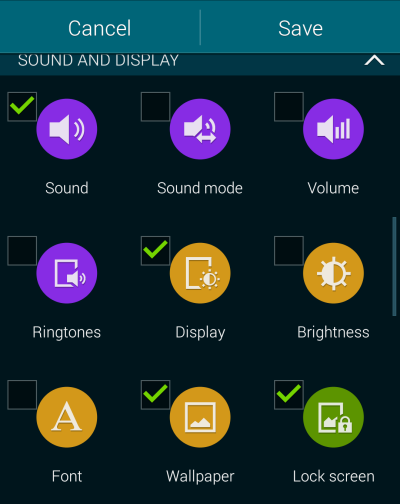 4. When you are done, tap Save to preserve the changes, and then scroll to the top of the Settings screen to see the changes. If you are not satisfied with results, repeat the steps above to change the list again.