If you know me well and read my articles often, you should know that I have an undying love for updates and upgrades. WhatsApp, being one of the best messaging Apps in our world today has got some tweaks and updates up its sleeve. Sometime in 2016, WhatsApp integrated the bold, strikethrough and italic feature which were amazingly outstanding and accepted by users all around the globe. Today, I'll tell you about a feature on WhatsApp that has been around for a while. I'll teach you how to send GIFs in WhatsApp. 
What is a GIF?
You must be wondering, what is heck is a GIF? I read a pretty big dictionary and learned that a GIF is a lossless format for image files that supports both animated and static images, and in my own words I'd simply say a GIF is an image that moves. Weird definition right? LOL, yeah I know. But I guess that would do.
Moving on;
Trust me on this, many persons use WhatsApp and most of them don't know that there is a feature that lets them search for GIFs and send GIFs. I, personally used WhatsApp for a long time before realizing that there was a special button for GIFs in WhatsApp.
With this feature of WhatsApp, you can find just about any GIF to compliment your chat with a friend or family member. My favorite part of the GIF feature on WhatsApp is that I can search for GIFs on WhatsApp using keywords. It is really amazing. Don't worry, I will show you how to access the GIF feature on WhatsApp and also show you how to search for specific GIFs using keywords.
Another thing you need to consider doing before you go ahead to try the steps below is "make sure your WhatsApp is up to date". If you are using the latest version of WhatsApp, then that's great.
Okay, Lets move on to how you can actually send GIFs in WhatsApp.
How To Send GIFs in WhatsApp
1. Open Whatsapp on your Android device.
2. Start a chat with someone you want to send a GIF.
3. Click or Tap on the emoji icon located at the bottom left of your WhatsApp.

4. Tap on the GIF symbol located at the bottom of your screen.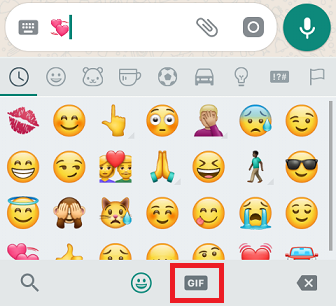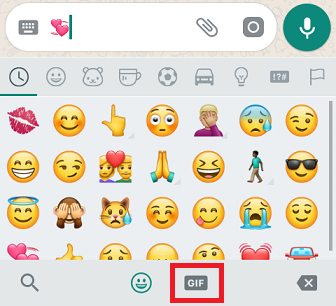 5. Select from the list of available GIFs and send it.
GIFs are all gotten from a website called Giphy.com and are updated regularly. The GIFs you'd see today might be different tomorrow.
The next thing I'd talk about is how to use the search feature. Here's how it works.
After you tap on the GIF symbol, Tap on the search icon or symbol to search for a GIF of your choice. Input a keyword to see related GIFs. You could input "crying" to see GIFs related to crying, you could input "Hello" and a bunch of GIFs related to "Hello" will pop up for you to choose from.
Frequently Asked Questions And Answers
Q: Can I use more than one keyword when searching for a GIF?
A: Sure, you can use more than one keyword. You could for example use two keywords like "man crying".
Q: Is there a limit to the number of GIFs that I can send?
A: Not at all, you can send as many GIFs as you want. 1000 maybe? LOL
Q: My GIF is not loading, what do I do?
A: Check if your data connection is active, you need to have internet connection on your device for it to work.
Here are some related articles that you may find interesting
How To Change WhatsApp Number
How To Create A Broadcast List On WhatsApp
How to Share Live Location in Whatsapp | iPhone and Android
How To Use WhatsApp Quote Reply on Android / Windows / IOS