Do you have some Viber messages that are just too important to you? Then we have good news. Viber allows users to back up their messages so they can be accessed and restored anytime to any device. This article will show you how to easily backup Viber messages.
Not all messages are intended to view, read then delete. Sometimes we want to read them over and over again especially if the message comes from someone we value. In many other messaging apps, once you move into different gadgets all your messages will be gone. However, Viber gives you a chance to restore your messages from another device by doing a back up on the current smartphone you are using. With this, you can still go back and view the conversation you've had.
How to Backup Viber Messages
Follow the steps below to backup Viber messages on your phone:
1. Launch your Viber application on your Home screen.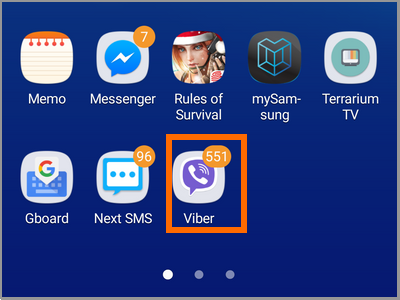 2. Go to your More option. Tap the button that's located in the bottom right corner.

3. Scroll down then click the Settings tab.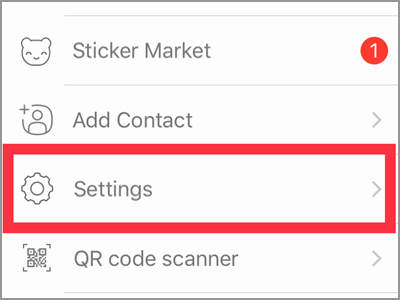 4. The next screen will show you different settings. It has your Account, Privacy, Notifications, Calls and Messages, Media, and the General Settings. Tap the human icon or the Account tab.

5. Under your Account comes four menu. For this article, tap the Viber Backup tab.

6. A message about the Viber Backup is displayed on the top of the screen. This will give you a hint on what and how the backup uses. Hit the Backup Now option to continue.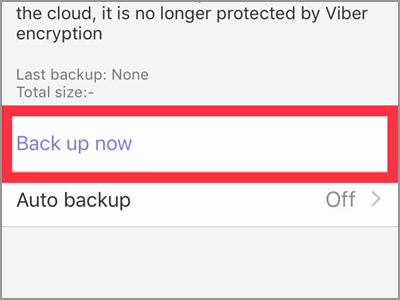 7. If you're using your mobile data, a pop-up window will appear. It will notify you to confirm the use of your cellular data to backup messages. Tap the Use Cellular Data to continue. Otherwise, tap Cancel and connect to a Wifi connection.
Q: Where can I find my backup?
A: To be able to backup your Viber messages, you need to be connected to a storage device. For Android users, you must have a Google Drive where you can save your backup. A cloud storage will do if you don't have Google Drive. While for IOS, you should enable the Viber app to your iCloud Drive. It's easy. Go to your Settings and tap your account name. Then choose iCloud. If you're automatically signed in, look for the Viber app and turn the button on the right to green.
Q: I'd backed up my Viber messages on my iPhone. But upon restoring them to my new Android phone, it didn't work. What might be the problem?
A: The Viber Backup works for both Android and IOS devices you can't restore messages from android to IOS or vice versa. This function can only be used for the same system. If you backup a chat history from your iPhone, restoration should take place on iOS devices as well. Also, you can only backup and restore messages with the same phone number.
Q: What content can I backup?
A: You can backup your chat text messages and Public Accounts. But your secret and hidden chats are not included. Also, messages that were not successfully sent and media messages can't be part of the backup. And as it was said, only text messages can be backed up. Thus, those photos, videos, and files sent to you cannot be back up. If you want to keep them, save them to your phone.
Please take note that the latest backup will remove any previous backup you've done. With this, you can only restore your updated backup messages. If you want to have a regular backup, you can have it manually or set it automatically. Yes, you can have your backups automatically. It can be on a daily, weekly or monthly basis. As a default, the auto backup feature is turned off.
You just learned how to backup Viber messages on your phone. If you have questions about any of the steps above, let us know in the comments section.