This article will walk you though how to change the desktop image on your Mac picture or on the slideshow of your choosing. You can pick from the gorgeous images provided by Apple or use your own pictures.
1.Go to System Preferences>Desktop & Screen Saver.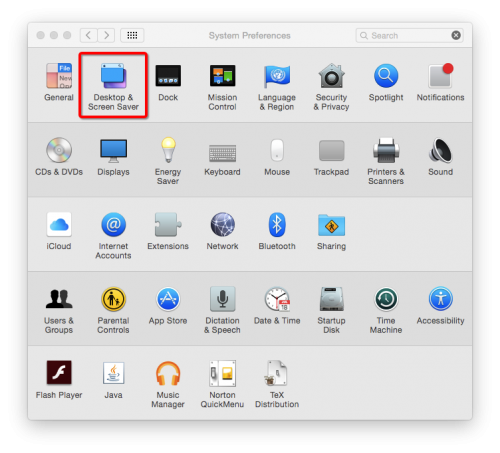 2.Set your desktop wallpaper. You can use folders of pictures provided by Apple or your own personal pictures. Click on the folder you want to use in the left panel, and preview the pictures on the right.
To use your personal photos you have two options. You can use pictures in your photostream if the pictures you want to use are stored in the Apple ecosystem, or you can pull from a folder on your computer. Click the + button as highlighted in the figure below to navigate to the folder that contains your desired pictures. That folder will appear in the left panel.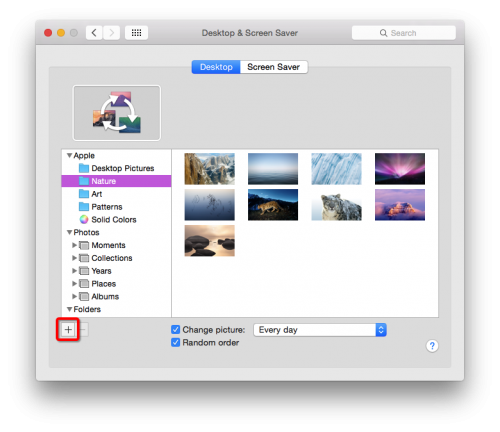 3.The bottom of the window has two checkboxes. If you do not check them, you will have a single picture as your desktop wallpaper. Clicking the Change picture checkbox will turn your wallpaper into a slideshow of all the pictures in the folder you selected. Set the frequency of the change in the dropdown to the right. You can then decide if you want them to go in a random order or not.
4.If you use multiple desktops, getting these changes to apply to all your desktops is a bit tricky. The easiest way to do this is to delete the multiple desktops, apply the changes you want, and then re-add the extra desktops. They will all match your Desktop 1. You could go wild and set a different picture or slideshow for each of your desktops. If you want to read about how to set up multiple desktops, check out this link.