I had a roommate in college who fell asleep every night listening to Car Talk. (Fortunately for me, she used earbuds attached to her phone because being talked to sleep does not work for me.) The Apple Podcast app found on iPhones, iPads, and iPod Touches has a built-in sleep timer that will shut off a podcast after a set amount of time or at the conclusion of an episode. This is perfect for being lulled to sleep by meaningless blather on a particularly boring podcast.
What are Podcasts?
Podcasts are audio files that you can download to your portable devices. Most podcasts come in a series with episodes, similar to a TV show. You can subscribe to a Podcast to download new episodes automatically as they come out. You can listen to podcasts over an internet connection or download them to your device so that you can listen to them offline. This tutorial focuses on how to use the sleep timer with a podcast episode.
1.Tap the Podcasts icon to launch the app. You can also press and hold the home button and tell Siri "Open Podcasts." Once you have subscribed to a podcast, you can have Siri start playing a specific episode using voice commands.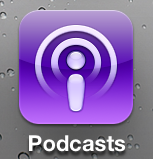 2.Podcasts will open to My Podcasts, where all of your podcast subscriptions are listed with the number of unplayed episodes. Tap on a podcast to see a listing of the episodes, and then tap on an episode to start playing it.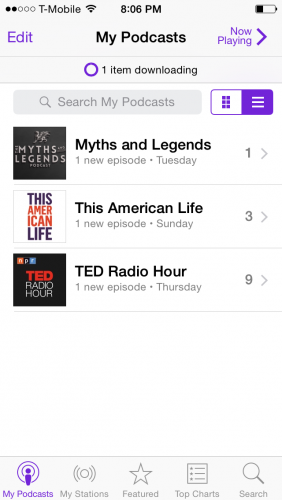 3.The Sleep Timer is found on the bottom right corner of the Now Playing screen. This text will change to show the amount of time remaining on your timer once you turn the timer on. Tap it to open your sleep timer options.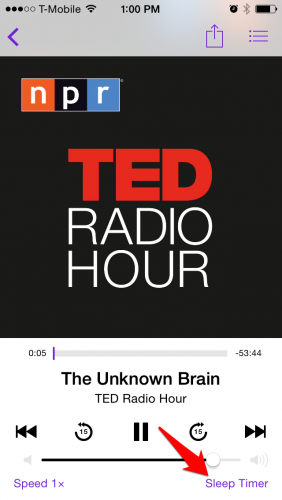 4.Choose the time you want the podcast to play before it shuts off. Note that the timer will keep ticking even if you pause the podcast.