A lost iPhone is more than just a lost device. A lost iPhone could mean a potential exposure to your data and privacy especially if the device falls in the wrong hands. If you can't find your device and you want to clear the data off of it, here's how you can wipe a lost iPhone remotely.
iPhones are one of the most secure devices in the world. One can't just tap into an iPhone, hack it, and gain access to the device. Even the FBI had a hard time getting into a person's iPhone as Apple refused to help unlock the device
A 2018 update on the iPhone's software disables the phone and data port making it harder for law enforcement agencies to crack into an iPhone forcefully. Still, it pays to be on the safe side. Sometimes, your iPhone may be in possession by someone who knows your passcode. This article should be your guide in can you need to wipe a lost iPhone remotely.
How to Erase Data on a Lost or Stolen iPhone
Erasing the data on a lost iPhone prevents your data from being exposed to malicious use. If you enabled the Find My iPhone feature on your device, things would be easier and smoother for you. The next section details the steps on how to remotely wipe a lost iPhone.
Before You Wipe Your iPhone
Confirm that your iPhone is lost before actually trying to erase your phone's data. Try to locate your iPhone using the Find My iPhone feature or remotely play a sound on the iPhone even if the device is set to silent.
Remote Wipe a Lost iPhone Using Find My iPhone
If you are convinced that your phone is lost and you set up the Find My iPhone feature on your device, do the next steps to use Find My iPhone to erase all content, settings, and data on your phone:
1. Sign into your iCloud account.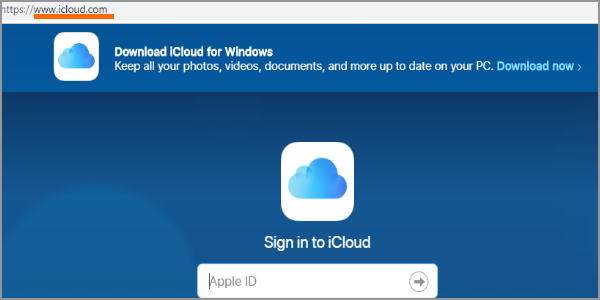 2. Click on the Find My iPhone icon located on the lower part of the screen.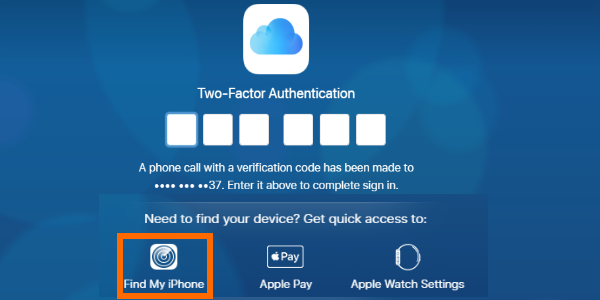 3. Find My iPhone displays a list of turned on devices where your iCloud account is logged in. Tap on the device you want to erase remotely.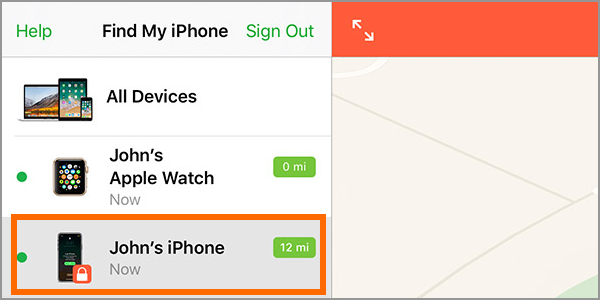 4. The next screen shows the selected device's information. Tap on the Erase iPhone button to start to wipe a lost iPhone remotely.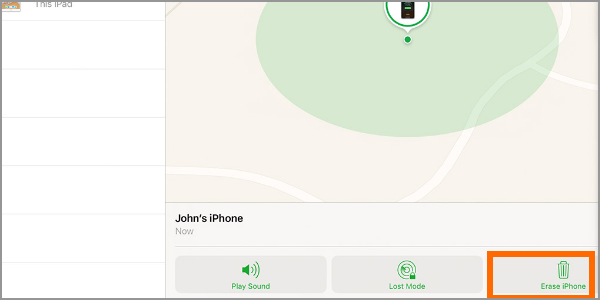 5. Confirm the action to start the deletion process. Once confirmed, all data on the iPhone will be deleted, and there is no way to reverse the process back. The device will then be deleted from the list of your devices on your iCloud account.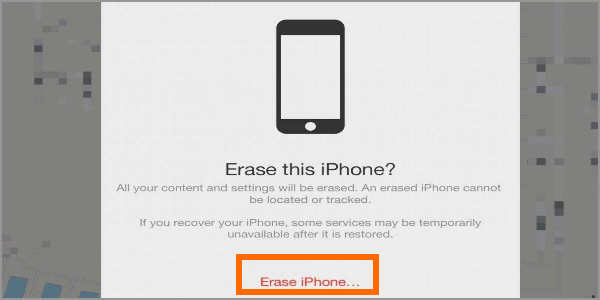 Frequently Asked Questions:
Q: I checked the Find My iPhone on my iCloud account, but I can't find my iPhone. Did I miss something?
A: You need to enable Find My iPhone on your iPhone to take advantage of the feature. If you have not activated the Find My iPhone feature on your device, your iPhone won't be displayed on your list of devices in your iCloud account.
Q: After doing the steps in this article, my device was no longer available on my list of devices? What does that mean?
A: It means that the device has been successfully removed off of your account. Data on the device were deleted including the Apple ID on it – this the reason why the device no longer shows on your list.
Q: Will the remote erase begins right away?
A: The system will automatically start to remotely wipe a lost iPhone as soon as your device is online.
Q: What will happen if my device was turned off or offline during the process?
A: The remote erase activates once your device goes online.
Q: I found my iPhone. Can I undo the reset?
A: You cannot undo the changes that you made to your iPhone. However, you can restore backed up data by following the steps in our article on how to recover deleted files on iPhone.
Q: Will the credit and debit cards information on my device be removed during the remote erase?
A: All data including credit and debit cards are removed once you erase data on your iPhone. Unlike general data, financial data are immediately removed without waiting for the device to go online.
Q: Is a remote wipe the only thing I should do when my iPhone gets lost?
A: Most of the time, doing a remote wipe on a lost iPhone is enough. Still, we recommend that you report the lost iPhone to your carrier or the authorities. It's best that you document the loss of the device.
Having a lost iPhone may be a bad thing but getting your data exposed could be worse. Learning how to wipe a lost iPhone remotely is essential to keep you safe from issues such as online fraud.
You just learned how to wipe a lost iPhone remotely. If you have questions about any of the steps above, let us know in the comments section.