The iPhone X has arrived! Pronounce as iPhone "Ten", iPhone X is considered Apple's tenth-anniversary phone as it has been ten years since the introduction of iPhone to the world. One of iPhone X's most anticipated feature is the Face ID. The Face ID feature on the iPhone X has multiple functions including signing into apps, verify purchases and payments, unlock your iPhone, and other functions with just a quick glance at the TrueDepth camera. Before using iPhone X's Fae ID, you need to set it up first. This article will guide you how to set up Face ID on iPhone X.

The Home button is the iPhone's most important hardware button for ten years. Still, the same hardware button still functions and is available on the iPhone 8. However, for the first time, Apple has made the bold move to ditch the Home button. The iPhone X is a bezel-less device that offers a top-to-bottom screen. The important change in design requires sacrifices. One of the most obvious casualty is the Home button. The good news is that Apple understands how important the Home button is to users. The Home button is the key to get into an iPhone. As such, the iPhone X has offered the Face ID as a replacement for the Touch ID. Apple has bet all their chips into the Face ID being able to function more than the Touch ID. Is Apple right? It is up to you. You need to test it to know if the Touch ID can justify the removal of the Home button. To test iPhone X's Face ID, you need to set it up first. The next section will discuss how to set up Face Id on iPhone X.
What is iPhone X's TrueDepth Camera
The Face ID uses iPhone X's TrueDepth camera to read users' faces. The TrueDepth camera composes the notch in the top part of the iPhone X's screen. It is a combination of infrared camera, flood illuminator, proximity sensor, ambient light sensor, speaker, microphone, 7MP camera, and Dot a projector. The picture below shows iPhone X's TrueDepth camera and its components.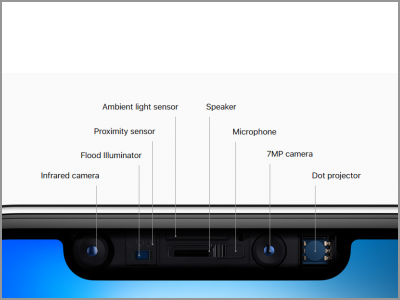 Set Up Face ID on iPhone X
To start using iPhone X's Face ID, you need to set it up first by following the instructions below:
1.Go to iPhone X's Settings from the Home screen.

2.Look for the Face ID & Passcode setting and tap on it to open the Face ID & Passcode page.

3.Tap on Set Up Face ID or Enroll Face . See to it that your face is clear and is facing your iPhone X's front camera.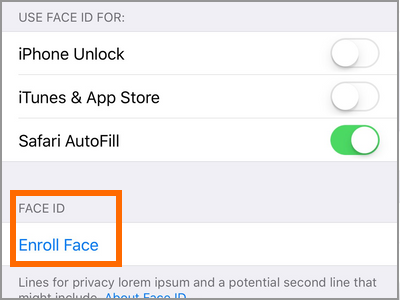 4.Tap on the Get Started button. Look into the iPhone X's screen ensuring that your whole face is inside the frame.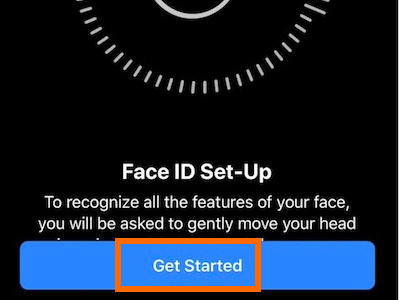 5.Move your head slowly and make a circular gesture with it. The movement should make a complete circle. The iPhone will scan your face and store the data in the Face ID.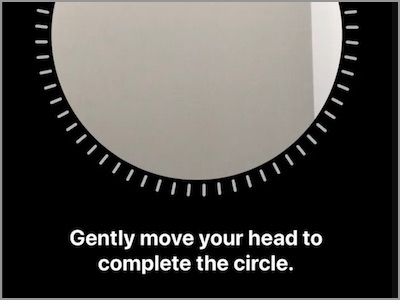 6.After the first Face ID Scan, tap on Continue.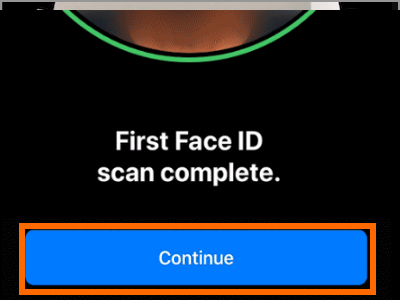 7.Again, move your head slowly while making a circular gesture.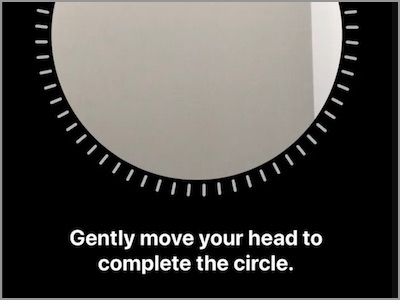 8.Your iPhone will verify the initially stored Face ID with the second scan. Tap on Done to save changes.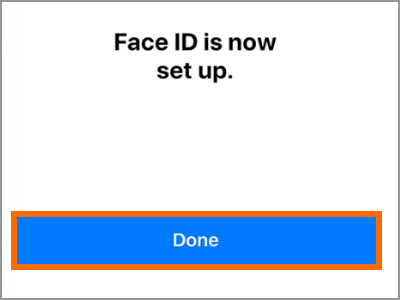 9.You just set up Face ID on iPhone X.
Note: If you have not set a passcode on your iPhone yet, you may be asked to make one. This is to ensure that you still have access to your iPhone whenever there are problems with the Face ID.
Frequently Asked Questions
Q: I followed the instructions in this article but I cannot complete the setup. What should I do?
A: There can be a few reasons why your setup with your Face ID does not proceed. First, ensure that you are in the well-lighted area. Your face must be clear enough for iPhone's TrueDepth camera to detect. If you are in a badly-lit place, move to an area with better lighting. Also, make sure that iPhone's TrueDepth camera is clear from dirt, oils, and other impurities. When using an iPhone case and screen protector, see to it that they do not get in the TrueDepth camera's way.
Q: Is there a possibility that a someone can unlock my Face ID using my picture?
A: No. Apple knew that at some point people would attempt to unlock Face ID using photographs. The issue is common to facial recognition software, so Apple ensured that this problem wouldn't be on their Face ID. This is the very same reason why the TrueDepth camera has a lot of cameras, sensors, and other components.
Q: I have a twin. Can he unlock my iPhone X using the Face ID
A: Apple has claimed that the FaceID is so accurate that online one out of a million people with similar faces can fool it. Though this claim has is not backed by data, some early users have tried, and failed, on tricking the iPhone X. However, some twins have reported gaining access to each other's Face IDs.
You just learned how to set up Face ID on iPhone X. If you have questions with any of the information provided, let us know in the comments.