If you have misplaced your iPhone somewhere in your house, you could use iCloud's Find My iPhone feature to play a sound remotely to find it. However, this solution requires too many steps and may not even be possible if you have no internet service in the house. Luckily, if you own an Apple Watch, finding your iPhone could be much easier with the Ping iPhone feature that comes with the default Settings glance. Here is how to use it.
In order to find your iPhone using the Apple Watch, your watch must be connected to the phone via Bluetooth. When you "ping" your iPhone, it will play a tune so that you can track where the sound source is coming from. The tune will be played even if your phone is in Silent or Do Not Disturb mode.
Tip: If your Apple Watch is not in your iPhone's range, try moving around until the two devices are connected. By doing so, you also have a better idea of where your phone might be located.
1. Go to the main watch face. If you are using an app, press the Digital Crown once to go back to the watch face.
2. Swipe up from the watch face to view the glances.  Go to the Settings glance, which is the leftmost one.
3. On the bottom row of the glance, there is an iPhone icon. Tap it to play a tune on your iPhone. The tune will be played only once, so you might need to tap it several times to find it.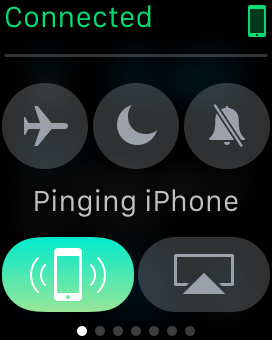 4. If you cannot find your phone, try pressing and holding the ping iPhone icon for a while. Do not force-touch it, or the whole glance will react. This action will trigger the flashlight on your phone, and the tune will be played louder as well.