Does your internet seem sluggish? If you have purchased an internet package that was advertised at a certain speed, this article will walk you through how to test to find out what your internet speed really is.
1. First, you need to find out what your internet speed should be. You can find this information on your internet service provider's website under your account or by calling your internet service provider. The speed will be in units of Mbps (Megabits per second) or Gbps (Gigabits per second). A Gigabit is about 1000 Megabits. These are measures of the rate that data is transferred to your computer. Note that the the internet service provider will almost always say "speeds up to" a certain number of Mbps. Do not expect to have that exact rate consistently. If you see one speed value, it is your download speed. Some internet service providers will give you two values: a download speed and an upload speed. The download speed is typically the larger of the two numbers.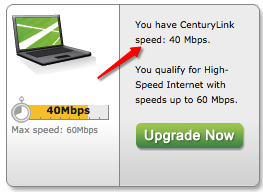 2. Turn off all music and video streaming. Make sure that you only have one device connected to your internet. Having multiple devices connected, even if they are not actively being used, will consume some of the bandwidth (or the available data transfer rate) and will skew the results of the test. Bring your device close to your router or connect with an ethernet cable if possible. You might also consider running your test in the middle of the day when fewer of your neighbors will be online, which can cause congestion on the servers.
3. Go to speedtest.net. This free service run by Ookla tests your internet speed by running some quick tests through a nearby server. Speedtest will automatically pick a server close to you, as displayed by the triangle inside a circle. You can change the server location by clicking another dot if you want to experiment. Click the button that says Begin Test.
4. The test will give you three results.
Ping: the reaction time of your connection (You want a low ping value.)
Download Speed: how fast your can pull data from the server to your computer (You want this number to be high.)
Upload Speed: how fast you can push data from your computer to the server (It is normal for your upload speed to be much lower than your download speed. You also want this number to be high.)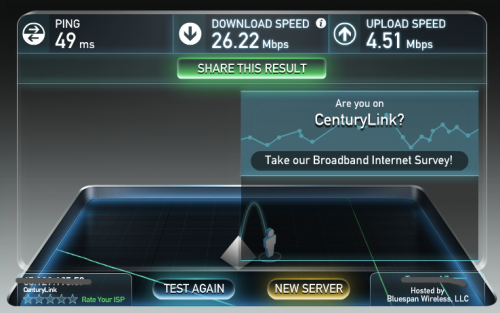 It is normal for your speed to be somewhat lower than what was advertised. Remember: you bought a package that advertised speeds up to a certain rate. There are multiple factors that affect the speeds measured in this test, and not all of the difference is the fault of your internet service provider. However, if your rate is significantly lower than advertised, you may want to contact your internet service provider's customer service or switch to a different provider which may have better service in your area.
Ookla, the company that runs speedtest.net, also has mobile apps for iOS, Android, Windows, and Amazon. The mobile app comes with the disclaimer that testing Wi-Fi speeds with a mobile device will "not represent the full broadband connection speed."