When you are busy with the daily grind, constantly pressing the Home or Power buttons to view notifications on your phone can be counter-productive. Aside from the effect on one's focus and productivity, constantly pushing the main buttons of your Galaxy device can contribute to their wear and tear. Did you ever wish that there were a way for you to view important information on your phone without actually pressing any hard button? Whether you have a defective Home or Power button or simply want to minimize the use of these important keys, then this article is worth reading.
Enable Quick Glance to View Phone Information Quickly Without Turning on Your Phone's Screen
If you are using one of the high-end Samsung Galaxy devices such as the Note 2, Note 3, Note 4, Galaxy S4 and S5, then you can enable the Quick Glance feature on your device to glance at important information about your phone. To enable Quick Glance, follow these procedures:
1. Go to your phone's Home screen. You can go to the Home screen by tapping on the Back button a few times or by pressing the Home key once.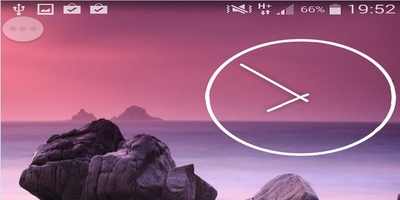 2. Open the Application list. Tap on the Apps icon on the lower-right part of your phone's screen.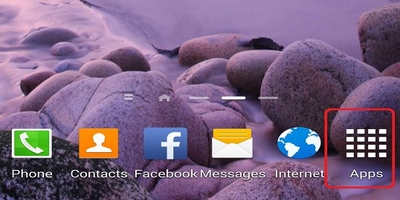 3. Access your phone's Settings. Tap on the Settings gear icon to open your device's settings.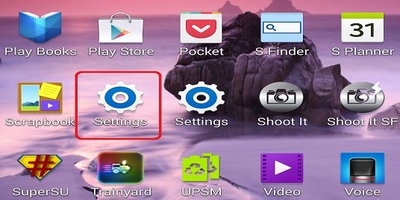 4. In Settings, go to the Motion section, and tap on the Air Gestures option.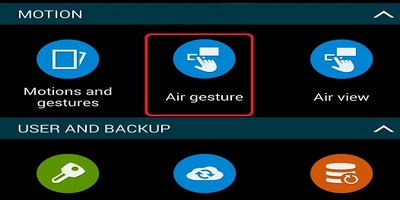 5. On the Air Gesture page, tap on the switch button on the left to enable the feature.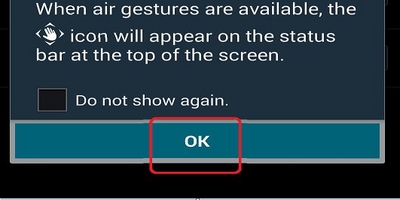 6. The next page will show you information about the feature. Tap on the OK button to proceed.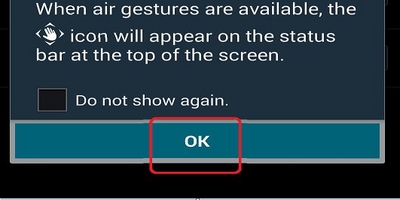 7. Open the Quick Glance page by tapping on Quick Glance.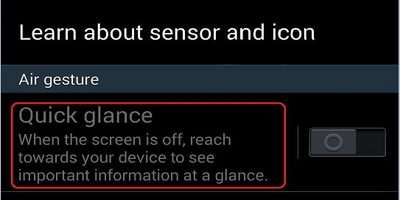 8. Tap on the switch button for Quick Glance to enable the feature.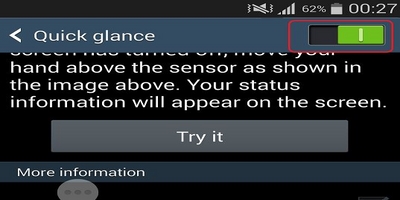 9. Quick Glance is now enabled. You can now start viewing information about your phone without manually turning on your phone's screen.
How to Use Quick Glance to View Phone Information Without Turning On Your Phone's Screen
Now that you have enabled Quick Glance, here is how you can view information about your phone without pressing the Home and Power keys.
1. While your phone's screen is turned off, place you phone on a flat surface. See to it that the screen is facing upwards.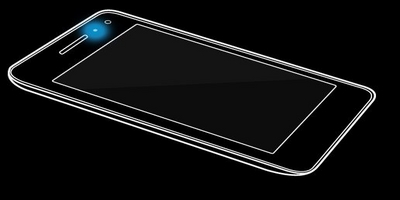 2. Hover your hand above your phone's sensor to see if you have an unread message, missed calls, battery levels and other important information.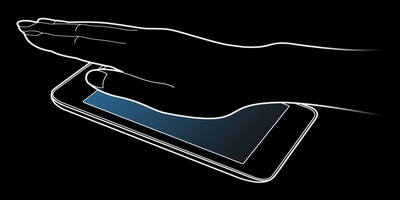 3. You can now take a quick peek at certain information on your device. The display will be on for about three seconds before it turns off again.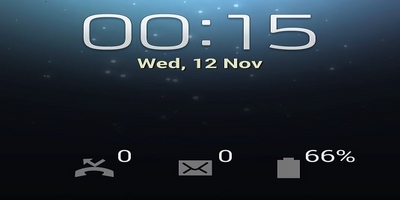 * See to it that you are only hovering over the sensors and not actually touching it as the sensors may not recognize the gesture.
What Information Can Be Viewed Using Quick Glance?
Certain information can be viewed through Quick Glance. You can choose to include any or all of these into your Quick Glance screen:
1. Time and Date
2. Notification icons
3. Missed calls
4. Unread messages
5. Battery power
6. Current music info
Do you think that Quick Glance is useful? Do you have any questions about the feature? Let us know in the comments section.