Outlook Mac 2011: Adding Holidays to your Calendar
Posted June 17, 2011 by David Kirk in Microsoft Outlook
Outlook allows the user to add holidays from multiple countries into the calendar.
Outlook has always driven me crazy that holidays are not included by default in your calendar. Luckily, adding these events are pretty easy.
1. Open Outlook
2. Click the File menu
3. Select Import
4. Select Holidays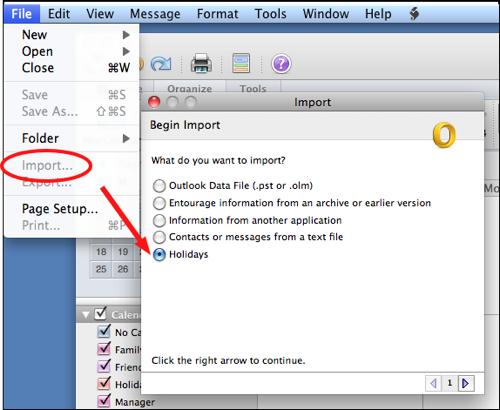 5. Click the right arrow
6. Select your country or region
7. Right click the arrow again.
8. After the import occurs, click the Finish button.
David Kirk is one of the original founders of tech-recipes and is currently serving as editor-in-chief. Not only has he been crafting tutorials for over ten years, but in his other life he also enjoys taking care of critically ill patients as an ICU physician.
View more articles by David Kirk
The Conversation
Follow the reactions below and share your own thoughts.