Outlook 2010: Disable Auto-Complete Feature
Posted May 8, 2011 by Lê Hoàng in Microsoft Outlook
In Outlook, the Auto-Complete feature will display suggestions for names and emails as you begin to type in either the To, Cc or Bcc line. If you find this feature annoying, you can follow this tutorial to completely disable it.
1. Launch Outlook 2010.
2. Go to File -> Options.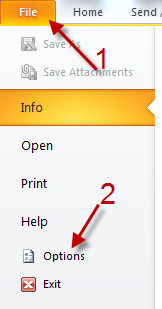 3. In Outlook Options window, go to Mail and uncheck Use Auto-Complete List to suggest names when typing in the To, Cc, and Bcc lines (under Send messages).

4. Hit OK the save the setting.

When not creating exciting new Android games, Lê Hoàng is here crafting tutorials, tweaks, and fixes for your enjoyment.
View more articles by Lê Hoàng
The Conversation
Follow the reactions below and share your own thoughts.