If you want to show somebody a specific part of a YouTube video, you can create a link that jumps them automatically to the correct location.
Often I want to share a small selection of a longer video clip. Instead of telling the user to fast forward to a certain time, we can just create a link that will start the video at the exact time we want the recipient to start viewing.
After we generate this URL, anybody that visits that URL will start view the video at the point that we have selected.
1.Play the video up to desired point which you want to be your starting point. Interrupt it by pressing the pause key.
2.Right-click in the video and select Copy video URL at current time from the context menu.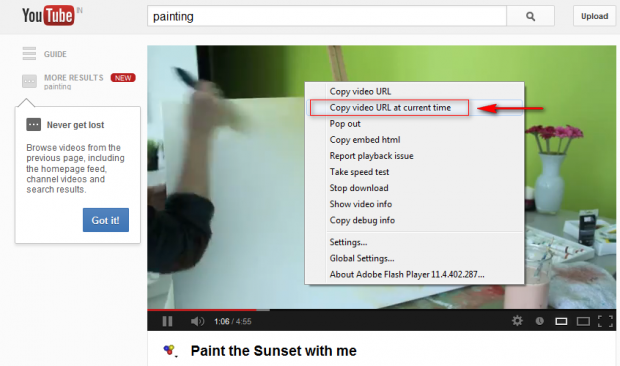 Our link that we have created above starts the video starts at 1:06s. Notice the t=66s in the URL which has been added to tell the player to jump 66 seconds ahead.
https://www.youtube.com/watch?feature=player_detailpage&v=7aeIpW0Tkvc#t=66s
3.Now the link URL can be shared through email, text message, Facebook, twitter, or numerous other methods. When someone clicks on the link, the video will start exactly where you want.