These days, you need to provide an email address to leave a comment on your favorite blog, join a forum, etc. By using a temporary addres, you can keep your primary address from being a spam magnet.
1. Go to Hotmail and login to your account.
2. Go to the sidebar and mouseover Inbox. Click the More actions icon that appears. Select Create a Hotmail alias.

3. Input the desired unique address and use the dropdown to select the desired domain.
4. Click the Create an alias button. You may have to try a few different addresses before you find one that hasn't been taken.


5. Make sure the A new folder radio button is selected and input a name for the folder that emails to the alias address are to be delivered to.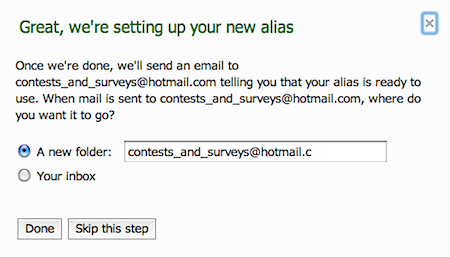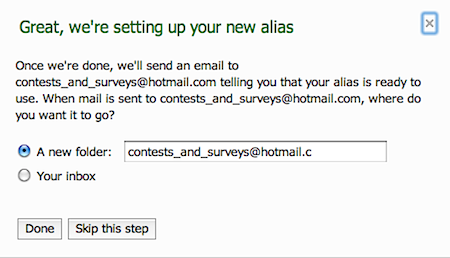 6. Click the Done button.
The new folder will be displayed in your Hotmail sidebar. At this time, Hotmail allows you to create up to 5 alias addresses. To delete an address, click Options (in the upper-right corner), select Account details, scroll down to Other options and select Your email addresses. Locate the alias address that is to be deleted and click Remove.