When was the last time you saw a fax machine? Fax machines are rather antiquated technology, but all the doctors offices and businesses that are stuck in the 1980's and still use them make life difficult for the rest of us. I used to make trips to the public library to fax required documents for job interviews, medical forms, and more. Fortunately, there are now tools available that let you send and receive a fax online. Fax.to is one of these tools.
How to Send Faxes
Fax.to is unique in that it has a pay-as-you-go business model instead of the subscription plans required by most of its competitors. This makes it a cheaper option for people who only send faxes occasionally. Fax.to works internationally, allowing you to send faxes to 135 countries.
1.Save the file you want to send as a .pdf, .jpg, .png, or .tiff.
2.Open up a web browser, and go to fax.to. If you are faxing from a mobile device, go to fax.to/iphone,  fax.to/ipad, or fax.to/android. This is a pretty neat feature: It means that you can snap a picture of a document on your phone and fax that.
3.From the drop down menu, select the country where you are sending the fax, and then type in the fax number. You will not be able to proceed until you have entered in a valid fax number.
4.Upload your file by clicking under Step 2:Upload your file, or drag your file to that spot on the page. The price for sending the fax will be calculated, and then you can click Send my fax to create an account, pay, and send the fax.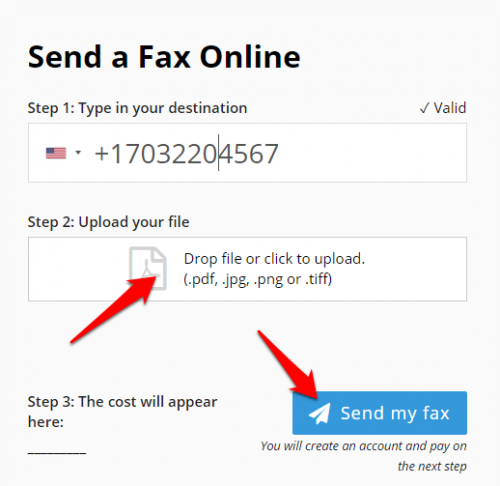 How to Receive Faxes Using Email
You can set up a local fax number that is tied to your email address for a €9 monthly fee. When you have a fax number account, you also get to send up to 60 pages and receive unlimited incoming faxes each month. Documents faxed to you will be received as attachments in email messages.
1.Go to the Fax Numbers tab at the top of fax.to.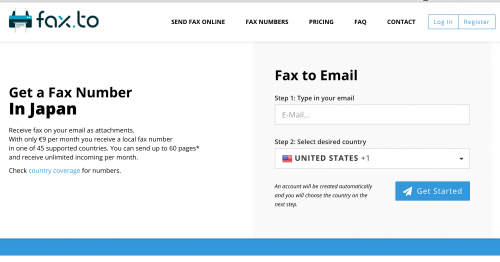 2.Type in your email address, and choose your country from the drop down list. Decide if you want a three-month or 12-month contract and checkout. Then you can start passing out your fax number and receiving faxes in your email inbox.