In the world of cryptocurrencies, the most lighthearted is the Dogecoin. Frequently used as a tipping mechanism on Reddit, Dogecoin has rapidly found a fun niche. Although each Dogecoin is currently worth only micropennies, the wonderful community and it's potential for growth has grabbed a lot of attention. Many people's first experience with this cryptocurrency is receiving a tip through Reddit's dogetipbot.
Although speculating on cryptocurrencies seems like a gold rush, Dogecoin's true value is around its community. Typically, the people who use Dogecoin are the sharing and helpful users that really make the internet a better place.
Receiving Dogecoins from the Dogetipbot
Many of us were first introduced to Dogecoin after receiving a reddit reply such as "+/u/dogetipbot 5000 doge verify." After this you should may have received a message from dogetipbot which allows you to receive your coin. If not you can +receive message the dogetipbot directly to receive your tips.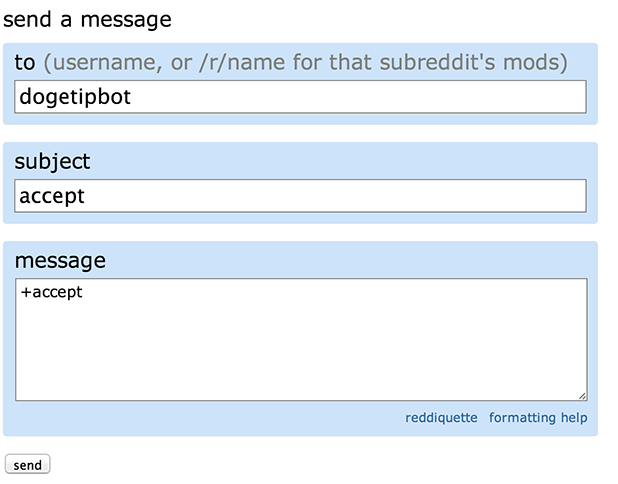 Send Dogecoins via Dogetipbot
If you want to jump into Dogecoins and start tipping before you ever receive a tip, you can ask Dogetipbot to set up your account first. This is accomplished by sending the Dogetipbot a +register message.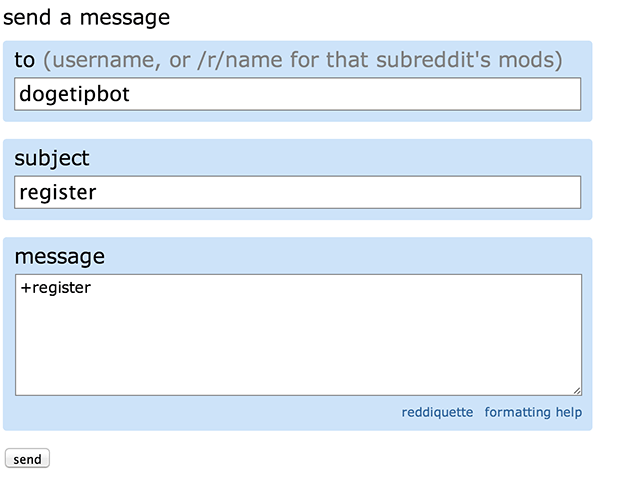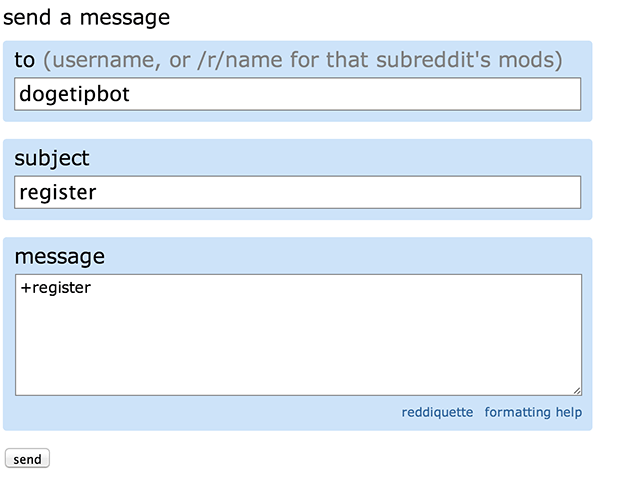 You will receive a message from Dogetipbot with your information. If you are logged into reddit, you should find this message in your unread inbox. The message will confirm your account and show you a deposit address where you can add dogecoin to your tip account.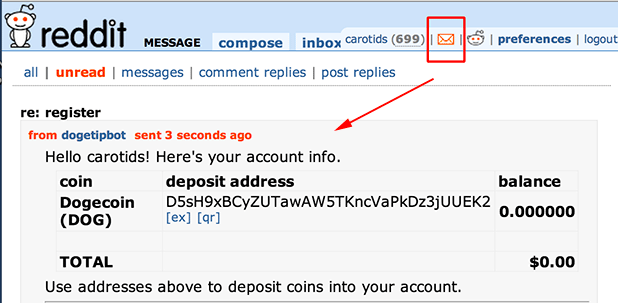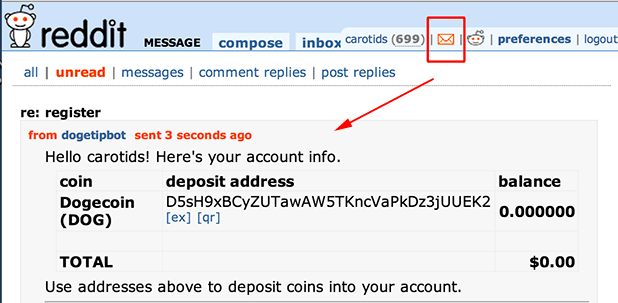 After you have placed some coin in your account, just reply to whomever you want to tip with a command to dogetipbot. For example, if you wish to tip 2500 coins, you would reply with "+/u/dogetipbot 2500 doge" somewhere in your message. Additionally, if you want to be absolutely sure that your tip went through, you can ask the bot to confirm the transaction with the verify command such as "+/u/dogetipbot 2500 doge verify." Many of us avoid using the verify command to prevent doubling the bot's work.
Personal Note
My dream is that one day tech-recipes and other tutorial sites throughout the web could be run with micro-donations such as dogecoin instead of relying on advertisements. When tech-recipes first started, we tried to run on donations completely; however, we never received enough to even cover server costs. Hopefully, one day tipping your tutorial author will be as common as tipping a server at your favorite restaurant. An editor can dream, can't he? To the moon!
My Dogecoin Address: DGRFRMN15ccth9J1tMAm8QFdqMYPsBbaVR