Just like many other apps for smartphones, Opera Mini and Mobile will be minimized to the background when users press the Back button on their phone. Leaving the app in the background may drain your battery faster and affect the overall performance of the phone. This tutorial will show you how to display an exit button in the Opera browser's menu list which will allow you to quit the browser completely.
Typically, when users hit the Back button on their phone, they want to exit the application. If they want to minimize the app to the background, they will hit the Home button instead. Because of this many Opera users may think that they have quit the app while it is really still running in the background. The only way to exit the browser (without killing it from the task manager) is using the Exit button from the app itself. However, by default this button is hidden. Here is how to unhide it.
1. Launch Opera Mini or Mobile from the app list.
2. Tap the Opera icon or the Menu button on your phone to open the browser's menu. From the menu, choose Settings.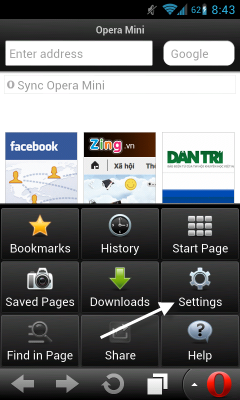 3. In the Settings screen, scroll down to the bottom and choose Advanced.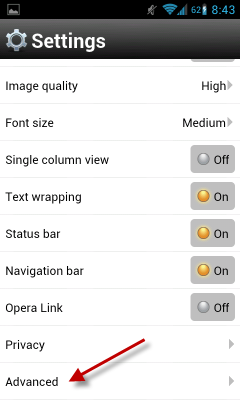 4. The Advanced screen of the two Opera versions may be a bit different. The Mini version haa more options available than the Mobile one. However, the Exit button can be found on both. By default, it is turned off. You can easily turn it on by tapping on the setting.
5. From now, the Menu list will have an extra Exit button at the bottom of the list.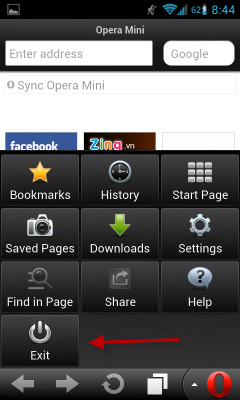 6. To exit the browser completely, just tap Exit and choose Yes from the prompt window.