If you use the popular business social network, LinkedIn, as well as Twitter, posting the same status to both networks can be time consuming. You can allow your Tweets to be included in your LinkedIn status and even specify which Tweets to display.
1. Go to LinkedIn and login to your account.
2. In the upper-right corner, mouseover your name and select Settings from the dropdown menu.

3. At the bottom of Profile Settings, click Twitter Settings.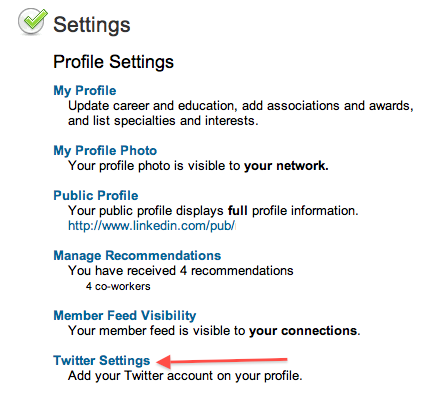 4. Under Twitter Settings, select Add your Twitter account.

5. When prompted by Twitter to allow LinkedIn access, click the blue Allow button.
6. In the Share your tweets in your LinkedIn status section, make sure that the Share only tweets that contain #in radio button is selected. This prevent you from hitting your LinkedIn connections with all of your tweets. You can just share the one's that you think they will be interested in.

7. Click the Save button.
Now you can share your Twitter Tweets with your LInkedIn connections by including the #in tag in those tweets.