He dropped out of NYU a semester prior to graduation, modeled for a while, invented open-source software still in use by some taxi-cab drivers and went on to be named in the MIT Technology Review TR35 as one of the top 35 innovators in the world under the age of 35 (2008) and devised what was initially an entrepreneurial start-up which donated $530,000 to American Civil Liberties Union (ACLU) raised by its staffers alone – Twitter. This blue-bird-symbolized media platform was ranked the 3rd with regards to its number of users, a gross 320 million (by March 2016).
What its founder, jack Dorsey, initiated as a mere start-up for tweets is now worth more than Snapchat – according to TechCrunch's recent calculations.
Even if Twitter doesn't consume as much of your day as, lets say, Facebook, it still serves you partially, one way or another. Whether it's direct messaging or following tweets about your favorite band's latest concert news, posting/retweeting content in areas of your interest or simply stalking your role-model celebrities, Twitter's blue bird sings a song that's part of the chorus of your life…whether you're aware of it or not.
A latest interesting feature, among others, is Twitter's search. There's more to it than it sounds at first. Why? Because Twitter comes under the most commonly used media sites where official accounts of celebrities, politicians etc are maintained. You must have heard things like 'Trumps tweet…' or 'A recent tweet by (someone popular)… And with this guide you can search twitter for this and more with our effective tips.
It's not that Facebook is losing its charm. No way. But it's just that Twitter has an air of sophistication like no other. That sophistication goes on to present accounts of these 'famous' users which class yet privacy not easily violated by hackers and so forth. It all adds up, really, since Dorsey invented Twitter keeping 3 guiding principles forefront: craftsmanship, constraint and simplicity.
Latest world news, events happening in lives of your music idols, poetry readings' information for that new writer you've discovered…Twitter gives it all to you, alongside the remaining common social media features (comments, likes, retweets, follow-ups etc). It's a whole new world in itself.
A complete guide to using twitter search
Here's how you can effectively search twitter.
 What It Looks like – At A Glance
Before you search, Twitter displays some tags below the search box, too. If you can't think of anything interesting to search on, you can always go with those tag.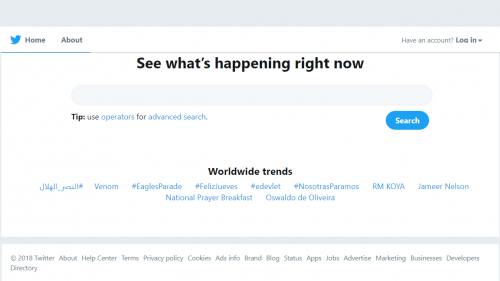 Once you type your search item (lets take 'music' as sample search term here), Twitter will show you the best – which, in Twitter terminology, is 'top' – news then profiles then tweets related to the subject searched on. It'll all be in a flow, one category following the other (top news – profiles – tweets).
You can select which category you want your search to be in, from the beets appearing above.
Related Searches
There's also an added option to make a compound search appearing on the left side – subjects with one or more words added to the root term in your search (root term being 'music' in our example here).

Search Filters
Twitter search filters, appearing right above the related search section on the left. They allow you to search for content specified by individual, location and language.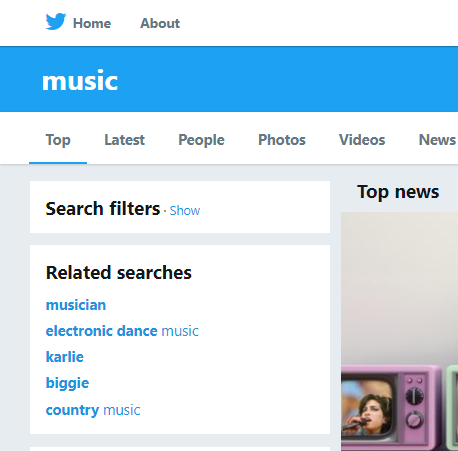 Select an item from the dropdown list appearing the search filters, to narrow down your searched content.
Advanced Search
If you remember exactly what you're searching for, its tags, time/date it was posted, fill in these boxes under the advanced search, right under the search filters.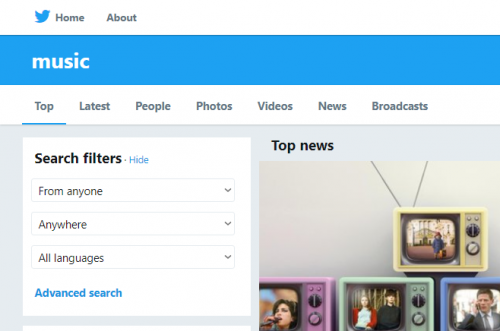 If you're logged in…
Then Twitter will show you trending topics via tags related to your search item in Trends for you, on the left, which can be changed also.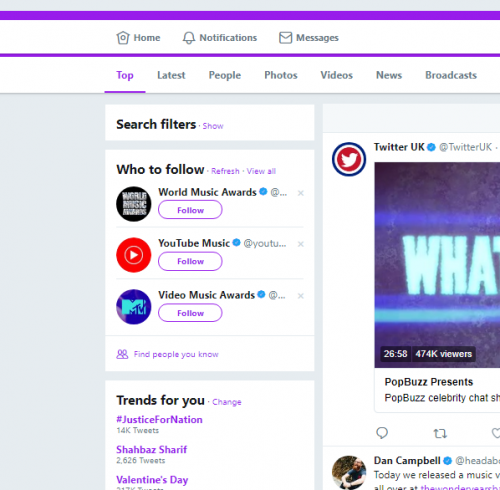 These are the simple steps to take while searching on Twitter, via a web browser. There might be slight variations related to the display, layout, tab titles and so forth based on which device you carry your Twitter search on. It is slightly different on the Windows 10 Twitter app, for instance, where the search feature appears on the left bottom corner, as shown below.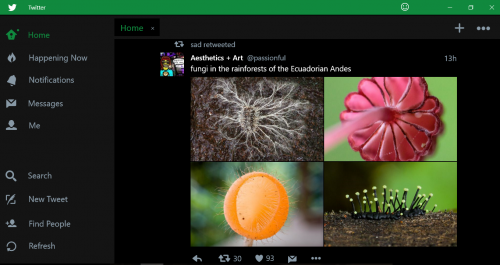 The rest is pretty much the same.
Frequently Asked Questions
Do I need to be logged in to search?
No, but if you find something good enough to like/retweet/comment on, you need to be logged in to your account to do so.
Does Twitter keep an archive of my searches?
Yes. That's how it recommends your profile for a follow-up in users' Who to Follow tab on the left.
Can I delete my search history?
Yes. Click/tap in the search engine on Twitter. It'll show you a list of your recent searches. Use Clear All to delete your search history.
Can I know if someone searched for my Twitter profile through Twitter search?
Unfortunately, no. You can't view who's viewed/searched for your profile, in accordance with Twitter's privacy policy.
How does Twitter use my searches for other users?
Twitter filters profiles appearing in another user's Who to follow tab on the left side via their searches. So if your search history includes a lot of content related to music, Twitter will recommend your profile for a follow-up to other users. This way, Twitter not only shows you which profiles to follow based on your search, it also shows your profile to other users based on the same thing. So if you happen to be an amateur singer/songwriter, who knows…a professional music artist or a music industry might just stumble across your Twitter profile and approach you. Thank God for this little blue bird, right.
Here are more related articles for your aid.