The notifications system has always been one of Android's most reliable and interactive aspects. Ranging from notifying you about a Whatsapp message, to the announcement of an incoming email, notification sounds have always played a big part in upholding the relationship between Man and his mobile phone.
Unfortunately, many application developers, in their quest to win your attention, take unfair advantage by spamming you with messages, promotions, packages, deals, and bundles. Many a times you may have felt the need to chuck your phone away into the deepest, darkest trenches in order to get rid of the annoyances of those notification sounds constantly interrupting you. But there is a less extreme road to take too, if you wish to change the settings of your notification sounds.
All you need for that is a smartphone and a basic understanding of how to operate an android. The steps explained in this list have been executed on the Android Nougat version in a Samsung Galaxy J7 Prime. If you have a software version that isn't android, you don't have to worry as the steps explained are practically similar on all versions of Android.
Enable Notification Sounds on Android : Step by Step instructions
Read as follows in order to find out how notification sounds are changed:
1.First and foremost, click on Apps on your home screen. You will be led to a list of all the applications that have been installed on your android phone.
2.Next, go to Settings option in order to access phone's settings.
3.As you look over the list, you'll see an option that says Sounds and Vibration. You will have to click on that in order to access your phone's sound preferences.You will now see a list of all the possible settings for sound and vibration. Scroll down until you see an option called Notification Sounds. Click on that.
4.You will now be led to a small list that says Message Notifications and Calendar Notifications. Since an average android user receives more notifications for messaging apps, you are suggested to choose Message Notifications.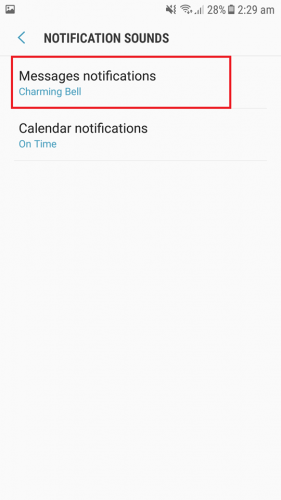 5.You can now choose to set the Notifications either ON or OFF. You can also set the vibration for it.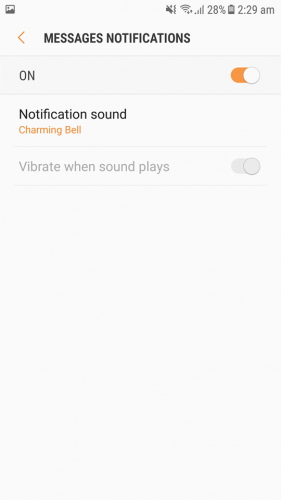 6.From the list that says Notification Sound, you can scroll down through all the preset sounds in your phone and choose the one that suits you most. Click on back once you're done choosing. It will automatically set the chosen sound as the default tone for all notifications.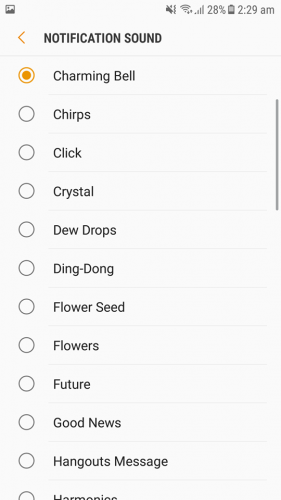 And voila, there the task of "Enable notification sounds on Android" has been accomplished. Your notification sound will have changed and it really is just as easy as explained. Try the above stated steps and you'll have control over what sounds your phone will blare out each time it has some incoming notification to alert you about. If you have any questions still in mind, I suggest you to refer to the frequently asked questions.
Frequently Asked Questions
 Can I revert back to my notification sound?
Yes, reverting back to your previous notification sound is just as easy as changing it. All you need to do is follow the above steps and in the list of preset tones, just select the sound that was your notification sound before it got changed.
I changed my sound but I can't hear it. What could be the reason?
If you cannot hear your notification sounds, then it may be due to the following reasons:
a) Either your sound volume is low, in which case just press the VOLUME UP button till a beep sound indicates that your phone has full volume.
b) You may have actually turned off the Message Notification option altogether. In order to turn it back on, just go to Apps < Settings < Sounds and Vibrations < Message Notifications < ON and you will be able to hear your notification sounds again
Can I use custom downloaded sounds as notifications?
Yes, you can absolutely download custom sounds from the internet and later use them as notifications. You can either download them from the Playstore or use third party applications to take out snippets from sounds you like and then set them as notification sounds.
This is how you enable notification sounds on android. If you have any further queries and questions, please leave them in the comment section below. we'd love to hear from you.