Basically, 360 pics works with panorama mode on your Android or IOS device's camera. The Panoramic mode on cameras allows you to cover fields of a lot of views, up to 360 degrees. A full 360 panorama photograph, reaches a horizontally elongated region of view that allows you to see every angle of the captured picture. 
Panorama is simply any wide-angle range or view of what could be a region or physical field of view, be it in a drawing, a film or in regards to this article, a photograph. Taking or making a 360 picture on Facebook allows you to access your media apps and files to create a panoramic picture that will appear in the saved mode as a 360 pic. Now, you can create a 360 pic from inside the Facebook app itself by accessing facebook directly or through your Android or IOS device, either way, this feature might require a software for those with different Android Operating system.
Note that, any picture that you create with the panorama mode on your camera will appear in the same way once such pic has been uploaded on Facebook.
Another thing worthy of note is "Your device needs to support the panorama" Don't panic if you are having difficulty using the three dimension pic mode. Not all devices have the gyroscope sensor, however, you can get an external 360 camera to enable you to take 360 pictures.
Currently, the Facebook web doesn't support 360 picture mode. You may have a hard time or a no success rate using this feature from your personal computer. The Facebook 360 Photo option is only available on the Facebook App on Android and iOS devices.
Moving on, time to talk about the steps you need to follow to make panoramic pics on Facebook.
How To Make 360 Pics On Facebook Android
1. Open Facebook App on your Android device.
2. Tap on What's on your mind.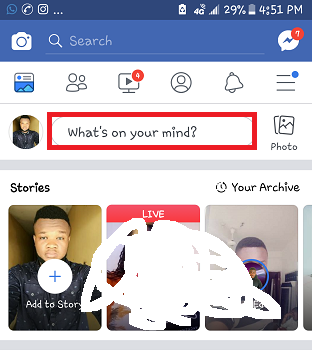 3. Scroll all the way down and select 360 photo.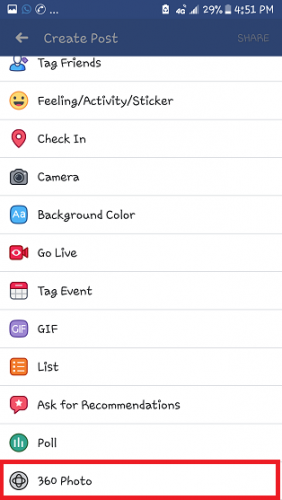 4. A circle will appear with a kind of horizontal rectangle, Click on the snap button and move the horizontal rectangle until it covers the whole grey section. (Don't move your hand too fast).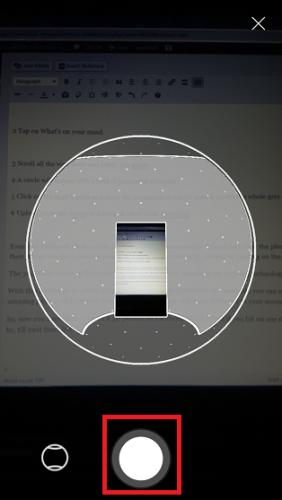 5. Upload your 360 image to Facebook when done recording.
Your 360 Facebook photo will be ready for viewing immediately. Friends can view the photo using a VR glass, this will however only work if their device has the gyroscope sensor. If not, they can view it by clicking or tapping on the 360 picture and scrolling to different angles.
The 360 Photo mode on Facebook is an amazing feature, thanks to the growing technological advancement happening in the world around us.
With this feature as an added advantage when uploading pictures on Facebook, you can never have a dull moment when it comes to posting an amazing picture on Facebook that will bring attractions and more followers to your account.
So, now you know how to make a 360 picture on Facebook. We'd love it if you hit on our share button and spread the Good news! Thanks for sticking by, till next time, bye.
Frequently Asked Questions And Answers
Q: Facebook 360 photo not working, what do I do?
A: A lot of people ask this question, here's my opinion. If you are having difficulty using the 360 photo option on Facebook it means your device does not support this function. You could try upgrading your Facebook App via Google play store and see if that helps.
Q: My Phone camera does not support panorama, what do I do?
A: You could try getting an external 360 camera. This will completely eradicate the problem of having a bad camera.
Q: Can I view panoramic photos without having the gyroscope sensor?
A: Yes, you can. All you need to do is click or tap on the 360 image and scroll to any angle you want to view.