Hello Dear reader, it is yet another exciting article in our cookbook full of tech-recipes titled how to change Facebook page name. This post is basically for people who are having a hard time changing their Facebook page name. Staying faithful to this article will teach you how to change Facebook page name.
Facebook is an online social networking site that allows users to create their personal profiles, share photos and videos, and communicate with other users, users also get to admire and comment on a post from friends. a social media is usually used to describe social networking sites such a Facebook. Of course, you know all this already.
Talking about Facebook pages, a Facebook page is a public profile specifically created for businesses, brands, celebrities, and other organizations. Unlike personal profiles, pages do not gain "friends", but "fans" which are people who choose to like your page.
How to change Facebook page name is a trending topic/question for page owners or page managers. Now, in this article, I am going to give you steps on how to change Facebook name. All you need do is read carefully and follow each of the steps I am going to list out.
Let's move on.
How to change Facebook page name
1. Log into your Facebook account.
2. Click on pages. Just below your profile on the left side of your screen. You would see your profile name and picture, look underneath and scroll down to find pages with a flaglike icon beside it.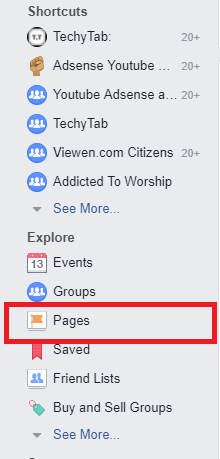 3. Click on a Facebook page created by you.

This will open your page properly where you can see contents and also make changes to any content.
4. Click on About. On the far-left where you have your page logo and page name you would see other options like home, posts, reviews, videos, photos and about.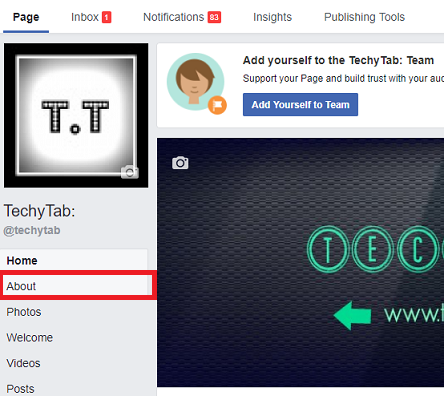 5. Click on Edit just beside the page name.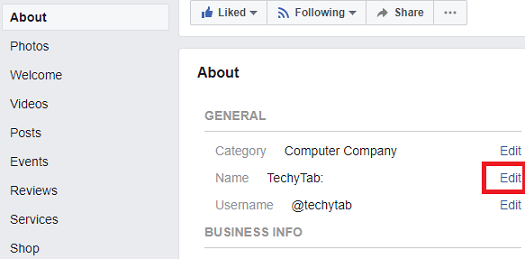 6. Type in your new Facebook page name and click on continue. You would see "new page name" boldly written on the left-side of the text box. You can re-write in the box that has your old page name and click on continue.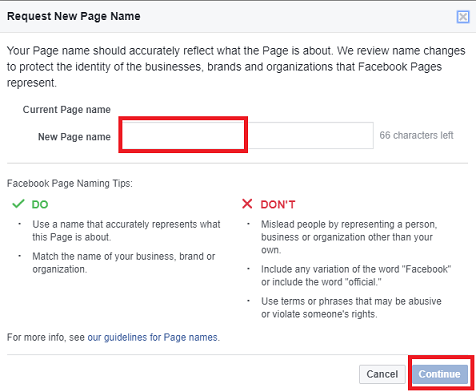 When you request for a Facebook page name change, the review may take up to 3 days and may require additional information if approved by Facebook.
N/B: you would see "Do" and "Don't" please read carefully
Do
  Use a name that accurately represents what this Page is about.

  Match the name of your business, brand or organization
Don't
Mislead people by representing a person, business or organization other than your own.

Include any variation of the word "Facebook" or include the word "official."

Use terms or phrases that may be abusive or violate someone's rights
And that's a wrap. Thanks for reading. I hope you enjoyed reading this article. If you by any means encounter any issue while trying to change the name of your Facebook page, kindly comment and I'll be of immediate assistance to you.
Frequently Asked Questions And Answers
Q: How many times can I change my Facebook name?
A: Like I said earlier, Facebook's review may take up to 3 days and require additional information. If your name change is approved, you won't be able to change the name again for 7 days.
Q: Will my page followers receive information about the name change?
A: I can't really say, but according to Facebook, they may also let the people who like your Page know the name has been updated.
Q: I mistakenly used a wrong Facebook Page name, How do I revert this?
A: You can make changes immediately, You would have to wait for a certain period before you can change your Facebook Page name.
Here are some related links:
How To Unblock Someone on Facebook
How To Update Facebook App on Android
How to Stop Seeing Posts from Facebook Friends | Without Unfriending Them