Having bright, vibrant colors and gradients against a dark theme in apps is perhaps everyone's choice these days. However, unlike most social media platforms today, Instagram has gone a step further than its rivals and introduced an even more exciting feature in its chat section. There, you can select themes as well as colors and gradients for your chat board and messages therein. The colors are nothing less than delicious, eye-catching shades in brights. Following is the super-easy method of how to change the color of your messages on Instagram in just under 10 steps!Changing the Color of Your Instagram Chats:
To do so,
1. Open Instagram DM from homepage.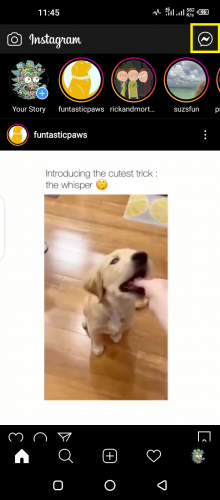 2. Select the chat you want color changed for.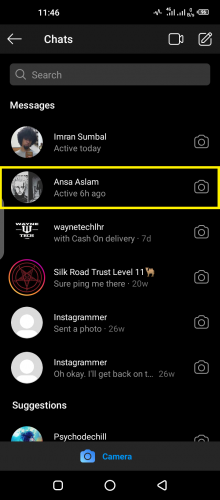 3. Tap on the information icon on top right.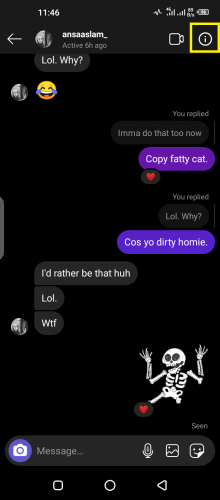 4. And then tap on Theme under Chat Settings.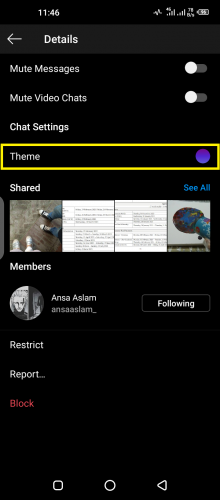 5. Scroll chat theme section upwards to view complete list of colors.
6. Choose the desired color from Colors & Gradients.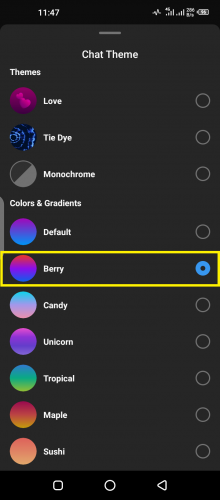 7. Your message color has now been updated.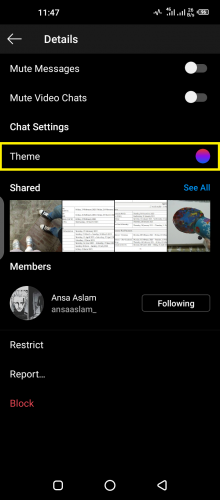 8. You can also change it again from update notification appearing in chat.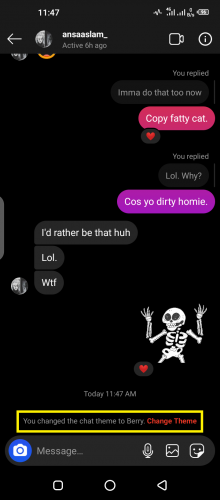 Now you can make your chats' section look as funky and colorful as you want, as much as you want! For Instagram lets you change theme color as many times as you want.
Settings in Instagram for Android, iOS and Desktop
The method mentioned here is for Instagram Android app. However, the basic steps are pretty much the same in Instagram iOS version. This feature is not available for Instagram desktop version…not yet anyway.
Theme of Instagram Chats
Now that you know how to change the color of your messages on Instagram, you can do the same for changing DMs theme. The theme and chat color on Instagram chats are both different things. Theme is the overall layout, in a way. It comes with its own, pre-selected color and gradient. For instance, one of the most liked Instagram chat themes, Tie Dye, comes with a royal blue gradient and sky blue message box colors.
Choosing a theme means you cannot select a color for your chat messages at the same time. You can only set a theme from chat themes or an individual color from colors and gradients.
The same rule applies to Instagram chats: you can change the theme as many times as you want, same as chat color and gradient.
Frequently Asked Questions
1. I just set a new theme/chat color, but it hasn't been updated. What should I do?
Simply close the app. Wait for a few seconds and then open it again. Or, refreshing the app from your homepage might also help.
2. Will the person I am chatting with be notified when I change chat theme/color?
Yes, Instagram notifies both you and the other person in the chat when a theme/color has been set or changed. That notification appears within the chat itself, as shown above (step 8).
More on Instagram's Latest Features
How to Create Messenger Rooms on Instagram Direct
Download Everything You Ever Shared on Instagram
How to Unmute Someone on Instagram — Regain Access to their Posts
Watch an Instagram Live Stream on your Desktop/TV