When you add multiple Google accounts to your Android phone, contacts from these accounts will be automatically synced and displayed in the Contact book. Displaying all of these additional contacts can make it hard to manage, search, and organize your contact. Luckily, you can decide to display contacts from only the account of your choice or even mix them together.
A large number of users have multiple Google accounts. In many circumstances it is very efficient to have these accounts all sync with your Android device. However, the number of useless contacts that get dragged into your Contacts Book can be overwhelming.
For example, on my Nexus tablet I want to have all the contacts from my personal and business accounts. However, on my phone, I want just my essential contacts that I call. By customizing which contacts are shown, I can tame my Contacts Book easily.
1. Launch the Contacts application on your Android device.

2. When the application is loaded, press the Menu key on your phone and choose Contacts to display from the list.
3. In the Contacts to display section, choose the account that you want to be shown. The Android device will only display the contacts inside that account. If you want to display contacts from more than one account at the same time, choose Customize.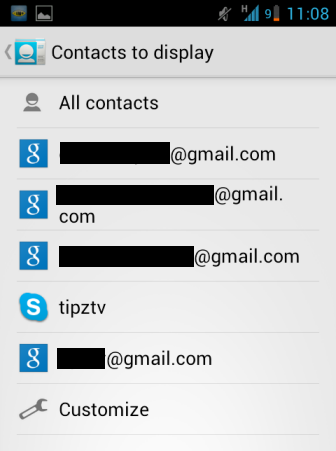 4. Tap the small arrow at the beginning of the email line to expand to choices and choose the options that you want. The choices inside accounts should be the same: My Contacts, Starred in Android and All other contacts. To hide contacts from other emails, just uncheck these options.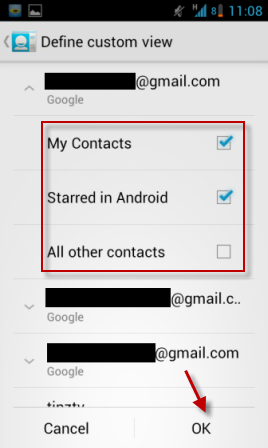 5. When you are done, just tap OK to save the setting. When you come back to the Contact Book, you will notice that it is displayed in the Custom view mode.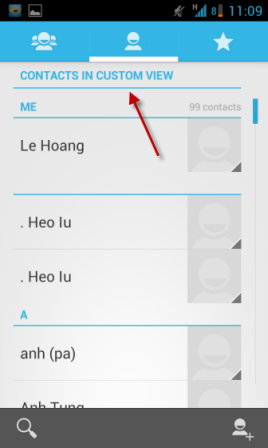 6. If you choose to display contacts from one specific account only, you will see that account listed instead.