One of the most common complaints about PS CS6 is the new style of the crop tool. By following these directions, you can force Photoshop to the use the older cropping method instead.
One of the most controversial and discussed changes to Photoshop was the radical new cropping method introduced in CS6. Instead of moving the crop box, with CS6 you are forced to move the image within the crop box instead. Not only is this a big change in workflow and user interface, but this new feature can cause severe slowdown lags on slower computers running CS6.
Through the following directions, you can switch to a "classic" cropping method that is much more similar to the behavior in prior Photoshop versions. However, by reverting the CS6 crop tool to the classic style, you will not be able to see the image preview until you crop the image.
1. First select the Crop Tool (C) from the left hand side.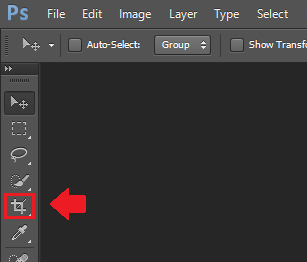 2.In the option bar associated with the crop tool, click the gear icon.


3.Select the box labelled Use Classic Mode.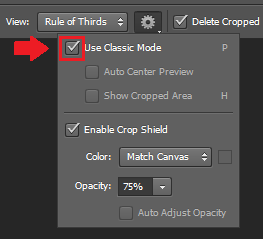 With classic mode set, you will recognize the more familiar UI associated with the cropping tool of previous versions such as CS5.