Hello there! I have been wondering. It seems like more and more websites these days want to get a bead on you. You've no doubt seen the pop-ups: "XYZ-Site wants to know your location." Then you have to click Allow or Block.In some cases, this is an important request, as determining your location will be helpful (or even required) for things like calculating a shipping price or giving driving directions. If you let Chrome share your location with a site, Chrome sends information to Google Location Services to get an estimate of where you are. Chrome can then share that info with the site that wants your location. Here's how to enable location services on Google Chrome.
That said, you may prefer to keep this information to yourself. Indeed, whether you have privacy concerns or you're just tired of seeing that particular pop-up, you can tweak your browser so it no longer presents location requests. Here's how.
How to Enable Location Services on Google Chrome
1. Open Google Chrome.
2. Click on the Chrome menu ⋮ It's in the top-right corner of the Chrome window. A drop-down menu will appear.

3. Click on Settings.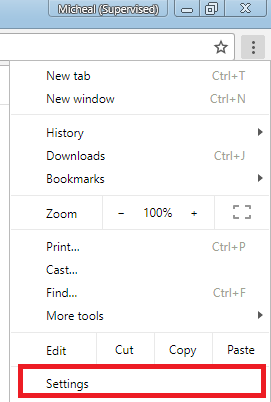 4. Scroll down and click on advanced settings.  It's at the bottom of the page. Clicking Advanced opens more options lower down on the page.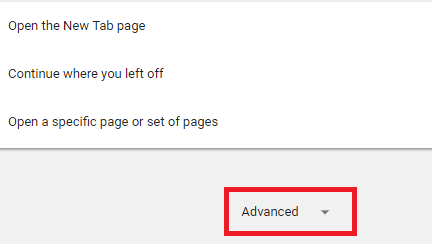 5. On "Privacy" section, click on Content settings. You'll find this near the bottom of the "Privacy and security" section of options.

6. In the dialog that pop-up, scroll down to look for the "Location" section. Click the blue  "Ask before accessing (recommended)"switch. It will turn grey. This will ensure that any site that requests your location will automatically have access to it.

If you want to manually allow sites to access your location, consider leaving the "Ask before accessing" button enabled. You'll still be able to allow location services on sites that you trust, and you'll be able to block it on any other sites.
When the "Ask before accessing" switch is blue, then sites that request for your location will display a pop-up at the upper-left corner of the page with Allow and Block buttons.
Summary
Open Google Chrome
Click ⋮
Click Settings
Scroll down and click Advanced
Scroll down and click Content settings
Click Location
Click the blue Ask before accessing (recommended) switch.
And that's a wrap, that's basically how to Enable Location Services on Google Chrome. I hoped you enjoyed reading this a much I did enjoy writing it. Thank you for stopping by to read on our blog today. Be your brother's keeper by sharing this informative article with your family and friends. Just hit on our share button.
Frequently Asked Questions and Answers
Q: How do I change my location on Google?
A: Check and update your location
Do a search on Google > Scroll to the bottom of the search results page. You'll see your location. To update your location, click Use precise location or Update location. You will be asked to share your device's location with Google, click Allow.
Here are some useful links to check out:
How To Downgrade Google Chrome Browser
How To Restore Last Session On Google Chrome
How To Recover Deleted Bookmarks in Google Chrome
How To Change Google Chrome Background | New Look