I have been in your shoes and even had more issues to sort out. So, I could be your best guider when it comes to issues like deleting your Instagram account. After reading this. You will know how to delete Instagram account.
It's normal to find people changing their mind about things that really matter and even take drastic decisions. One of such decisions is deleting your social media account completely. But in this context, it's all about one of our favorite social media platforms, Instagram.
I felt like asking why you would want to delete your Instagram account but you already made that decision, and that's why you are here.
Most people find themselves deleting their Instagram as a last resort because of some irreversible reasons or some hard to clean mess.
Yea, you might have been hacked, blackmailed or you just have multiple accounts and would want to focus on one account. Whatever is driving you, you might have made the right decision and that's why I would guide you as easy as possible.
So let's see how you can easily delete Instagram account and say goodbye to it.
How To Delete Instagram Account
Just a reminder, make sure you really want to do this and you wouldn't lose anything after hitting the delete button.
Your videos, comments, profile, photos, likes, and followers will be removed permanently. You won't be able to reactivate your deleted account or sign up using the same username again.
You should also have complete access to your Instagram account to be able to do this. So let's dive into the full steps.
1. First of all, open Instagram on the web via mobile or PC. You can't delete your account via the app, you can only do it temporarily.
2. Log in to your account using your correct login details.
3. Click on this link https://www.instagram.com/accounts/remove/request/permanent/
4. Select an option from the drop-down menu next to Why are you deleting your account? and re-enter your password.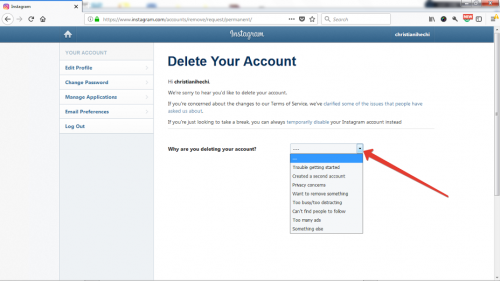 The option to permanently delete your account will only appear after you've selected a reason from the menu.
5. Click or tap Permanently delete my account.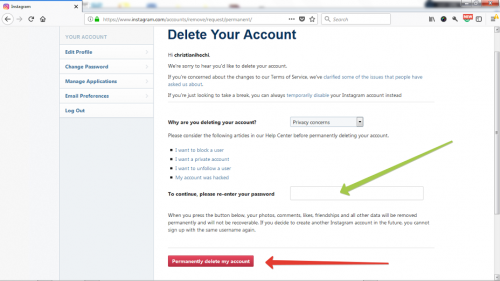 And that's it. You just permanently deleted your Instagram account and there's no going back. Note that, your account can only be deleted by you and not someone else. Instagram won't delete your account under any circumstances.
You need to be able to login to your account and perform the action yourself. Hope you find this guide useful on how to permanently delete Instagram account.
Before leaving, below are some FAQs on deleting Instagram account.
Q: Can I delete my account if it's hacked?
A: No way! You can only delete an account you can log in to. If you are hacked, you need to get access back to your account.
Q: Can someone or Instagram delete my account without my permission?
A: For security reasons, it's not possible. Anyone who wants to delete your Insta account must have your correct login details.
Q: Can I delete my Instagram account and later open it again?
A: Hmm. It's also impossible. You can't eat your cake and have it.
Q: What do I lose after deleting my account?
A: To be frank, you will lose everything in that account. Yes, it's your account and you deleted it. It goes down with everything you had: profile, photos, videos, likes, followers, comments etc.
Q: Can I contact support to get back my accidentally deleted account?
A: It also not possible. As soon as you consent to the deleting, it's removed and gone. Maybe they kinda clear the recycle bin also.
To wrap it up, only delete your account responsibly; when you don't have an option, when you are ready to lose everything or when it's the last option and you just can't hold back.
If you really need any clarification on how to delete Instagram account, I will more than happy to respond to your comments.