Lately, GPS has turned from something "techy" into one that is familiar to most phone users. The technology allows you to track devices that have enabled GPS. For iPhones, GPS is used primarily for tracking devices and to support app-based location services. Learn how to hide and manage location services on iPhone through this article.
GPS location sharing is used by many of the apps we use daily on our iOS devices. All these apps are having access to your location, send out notifications and recommendations based on your location. For example, when you recently just came out of restaurant you just had dinner, Maps asks you to review the place. Even the social media apps play that game where it lets you know who is around you.
Hide and Manage Location Services on iPhone
All your photos can be geo-tagged with the location when it is turned on. This is a great feature but, sometimes other such notifications are annoying when you're into something else. The downside of this also includes battery draining. So here's how you can turn off the location access for a particular app or on the whole.
1. Open the Settings and go to Privacy.

2. Now tap on Location Services. Here, you'll find all the apps that have access to your location.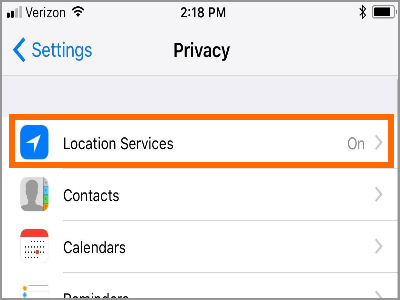 3. Turn off the Location Services toggle to completely deny location access to all of the apps.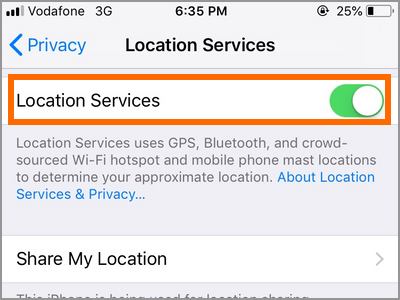 4. To change how an app uses your location on your preferences, select the app from the list for which you want to modify the location settings.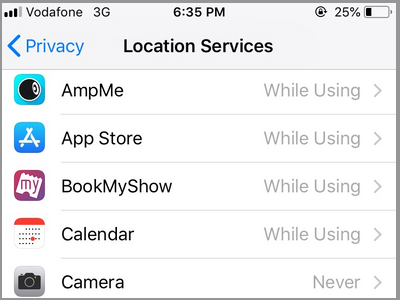 5. Now select Never if you don't want to give the app access to your location ever.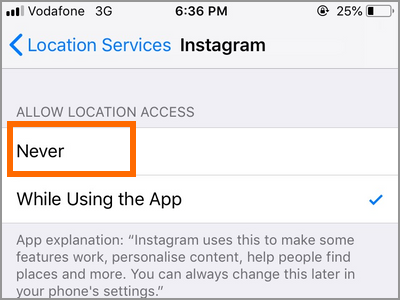 6. On the other side, select While when using the App to give the app location access only when you are using that app.

Even if you select Always, it depends on the app whether to track your location when you are using it or always do the tracking. For example, Facebook always tracks your location when you give access to it always and WhatsApp only does only when you share the location with someone.
Note that the apps will notify you of what might happen if you make the particular changes you want. Such as, if you are switching to other two from Always for the Maps, it will notify you that it further can't send you suggestions of nearby places based on your location.
7.If you need control of how the System Services are using your location, scroll down in the list and tap on System Services. Here you can find how your device's various System Services are using your location. You can turn off the toggle for whichever service you don't want to give access to your location.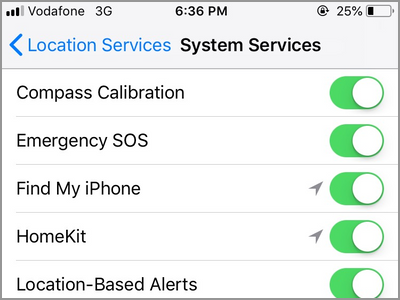 • For example, if you don't want the Compass Calibration to track your location, just slide the toggle beside it to turn off the location access for it.
Also, a little arrow is present beside these services. If the arrow is in purple, it means that it has accessed your location recently. If it is gray, it means that it has accessed your location past day.
Frequently Asked Questions
Q: Will I be able to use my apps after turning off iPhone's Locations Services?
A: GPS and location services are optional. You can always use your apps even if you have restricted the location service feature on your phone. However, you may have problems using apps whose main purpose is to provide you location-based services.
Q: Will turning off the Location Services save me on my battery usage?
A: Location Services on iPhone uses power to locate your device. Turning off your location services will save you on your battery power.
This is how you can manage the apps which access your location based on your preferences. Aside from having the option to keep apps from sharing your location, the feature helps in saving the battery too. If you have questions about any of the steps above, let us know in the comments section.