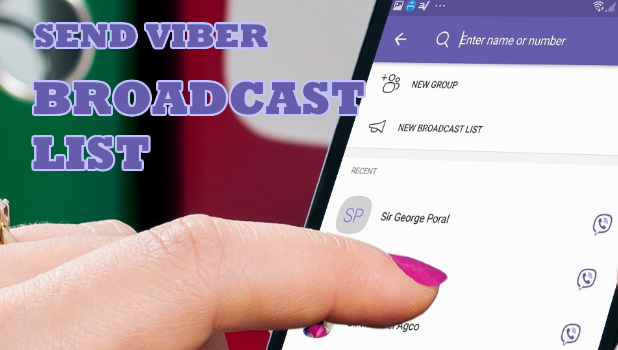 Instantly send a message to multiple Viber contacts without them knowing the recipients of your messages by broadcasting your Viber message. Broadcasting Viber messages is a good way to send a message to your preferred contacts if you do not want your group chats to be flooded with responses. This article will teach you how to broadcast Viber messages.
Even after being launched for almost 8 years and considered one of the most popular and user-friendly instant messaging application available and downloadable for free, some of Viber's useful features may not be familiar to most users.
Broadcasting messages instantly on Viber is by far, one of best features Viber has offered to its market. As we all know, the sole purpose of Viber's existence is to provide better communication right? You can do it either privately or in a group. But what if I told you that you have the power to communicate to your group or squad and making it appear as a private message to each one? For some instances, you had a query for the group but don't want them to give an answer influenced by the other.
Some Viber users do not know how to broadcast messages either due to not knowing that such feature exists, or they are just too cautious and careful enough to prefer clear and specific instructions rather than to explore unswervingly with uncertainty. This feature is exactly meant for the cited scenario and help you save time and energy.
How to Broadcast Viber Messages
This tutorial is guaranteed to provide clear and specific instructions applicable to all ages. To start off, read the next steps carefully and follow the instructions provided:
1. Open Viber. A violet-colored icon with a telephone symbol.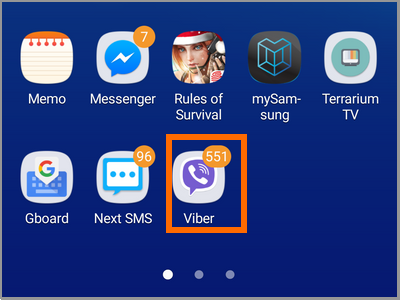 (Be reminded that this application needs to be set up first, if you haven't, do so before continuing on this tutorial.)
2. Tap the callout icon. Tap the rectangular callout icon found at the bottom right portion of the screen.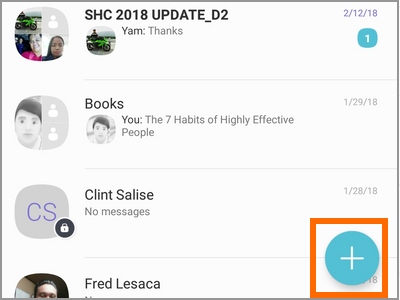 3. Choose New Broadcast List. By tapping on this option, you are expected to create a new list of people you wish to include on the loop.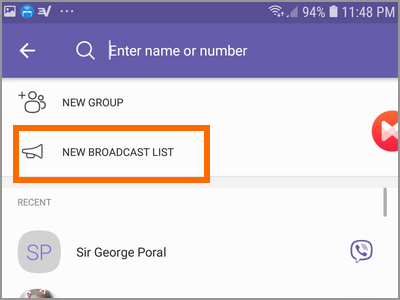 4. Search for contacts. Search for the contacts you want to add to your list and tap on the check symbol found on the upper right portion of the screen once you are done with the selection. (Note that each broadcast list is only allowed to enlist a maximum of 50 members.)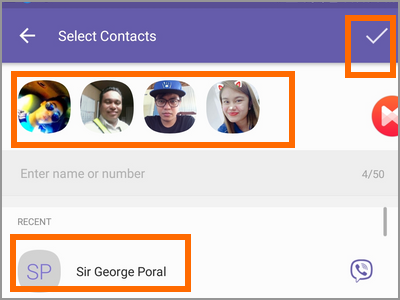 5. Input your message. Once you are done with step number 4, you may now broadcast your message to the group.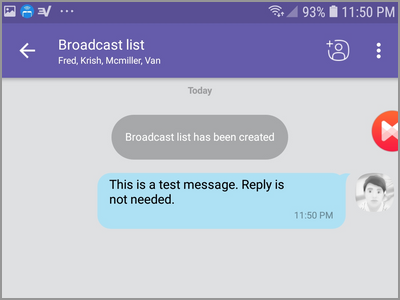 Frequently Asked Questions
Q: If a recipient receives my message and replies to it, will the reply be broadcasted too?
A: Replies from recipients will be sent only to the sender of Viber broadcasts through a one-on-one chat, other recipients will not receive the reply.
Q: How will I know if the broadcasted message was received by my intended recipients?
A: As the message is broadcasted to a list, you will not be notified that the broadcast was read by your intended recipients.
Q: I have included a friend on the broadcast list but my friend did not receive my broadcasted message.
A: Your friend needs to have an internet connection to receive the broadcasted message. Also, make sure that your number is registered to your friend's address book as messages will not push through if the sender is not on the recipient's address book. Viber did this to protect users from spam broadcast messages.
Q: How do I find my broadcasted messages?
A: Broadcasted messages appear on your chat list just like regular chats do but with the distinction of having a megaphone icon on it.
Q: Is there a limit to the number of recipients to whom I can send a broadcast message?
A: As pointed out in step number 4, you can send a broadcast message up to 50 recipients at a time.
As simple as that, you may now convey a message of what seems to be a private one but is actually intended to be sent to multiple people. Please take note that this broadcasting tutorial is only applicable for Viber users (considering that you broadcast your messages only to those who also have Viber installed on their smartphones, tablet or computer).
You just learned how to broadcast Viber Messages. If you have questions about any of the steps above, let us know in the comments section.