I love podcasts. I listen to them during my commute and while doing chores around the house. They are a great form of entertainment for times when your hands and eyes are busy but your brain has nothing to do. Apple has a built-in Podcasts app that makes it easy to play podcasts on iPhone, iPad, iPod Touch, or Apple TV.
When you subscribe to a podcast, new episodes are downloaded to your device automatically. (Read how to subscribe to a podcast here). What if you want to find an old podcast to listen to again or share? You can do this by taking a look through the podcast feed.
1.Tap the Podcasts icon to launch the app. You can also press and hold the home button, and tell Siri "Open Podcasts." Once you have subscribed to a podcast, you can have Siri start playing a specific podcast using voice commands.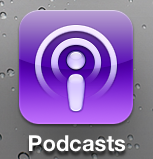 2.Podcasts will open to My Podcasts, where all of your podcast subscriptions are listed with the number of unplayed episodes. Tap on a podcast to see a listing of the episodes, and then toggle from Unplayed to Feed.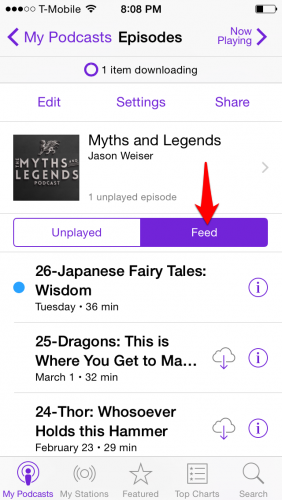 3.Tap on the circled i symbol to read more information about each episode. If the episode has the symbol of a cloud with a down arrow
, that means that the episode is currently in the cloud and not downloaded to your device. You can tap this symbol to download it for offline listening, but you can play the episode over WiFi or data without downloading it.
4.If the old episode you are looking for is not in the feed, it could be because the podcast charges for archived episodes. This is the case for some popular podcasts such as the top-rated This American Life, which allows you to listen to archived episodes for free on the web but charges for downloads of archived episodes through iTunes. I recommend searching the web and iTunes to find details specific to your podcast if the feed is not complete.
Do you have any podcast questions or tips? Leave a comment below.