The AutoRun feature has been a polarizing issue for Microsoft Windows users through many versions now. It is back in Windows 8. Luckily, it can still be disabled.
Whenever you attach an external hard drive, music player, USB drive, or enter an optical disc, the AutoPlay feature of Windows 8 happily asks what you would like to happen. For many people this adds efficiency. For many inexperienced computer users, this is an essential feature that prompts them with their available options.
However, many geeks find this feature to be the ultimate nuisance. For example, if you are connected an external hard drive, you may not want to do anything with that drive immediately. Additionally, AutoRun can lead to security problem for Windows users. Due to their ease, the AutoRun elements are an initial pathway for many trojans and keyloggers.
If you are not a fan of the AutoRun Feature, you can it turn if off globally through Window's Control Panel.
1.First, go to the Control Panel by searching for it from your Start screen.

2.Select the AutoPlay option.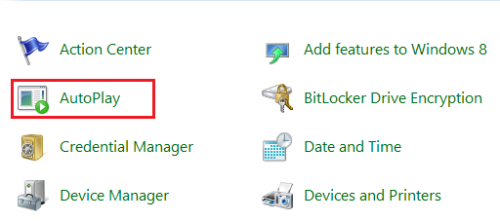 3.Under Choose what happens when you insert each type of media device select the specific options you want. If one particular option is bothering you, then you can disable it. For example, many people will want to just disable the Removable Drive option.
If you want to completely disable AutoPlay, deselect the checkbox next to Use AutoPlay for all media device.