By default, Windows 8 controls which version of Internet Explorer will be launched. Therefore, some of your links will be opened in the desktop version, while others will be opened in the Metro version. Many people may become accustomed to a particular browser version and may want pages to open in one specific version only. Fortunately, we can set the default browser version of IE to open links. Most desktop users will want to force the links to open in the desktop version.
Although the Metro version of IE 10 is cool, many options have been stripped to keep the minimal look of the interface. Sometimes, when clicking on a link, the web page will be opened in the Metro version. This annoys me because I have to manually copy and paste the link to the address bar of the desktop version. Using this tutorial, I can always open the links on the desktop version.
1. Launch the IE 10 desktop version.
2. Click on the small gear icon at the top, and choose Internet Options..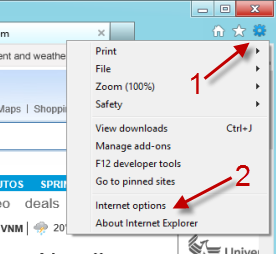 3. In the Internet Options window, switch to the Programs tab. This tab is located at the top of the window.

4. Find the Opening Internet Explorer section, and click on the Choose how you open links option. You can choose from three available options: Let Internet Explorer decide, Always in Internet Explorer (the Metro version), or Always in Internet Explorer on the desktop.
5. Click OK at the bottom of the window to save the setting.