This tech-recipe will explain how to reset and wipe your Tmobile HD7 / Windows Phone 7 device back to factory settings and applications. This process will wipe your data from the device.
1. Go to Settings (by swiping to the left and scrolling down to Settings)
2. Go to About
3. Then tap on the "reset your phone" button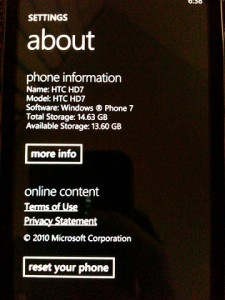 This will wipe and reset your Windows Phone 7 device back to the factory settings and state.
Jimmy Selix is an early adopter that loves to be one of the first on the block to have the latest and greatest in technology and gadgets. Another love of his is being able to share his knowledge to others seeking it. Feel free to drop any comments or questions that you may have.