Twitter lists are an organized way of keeping members and tweets separate in their respective categories. For example, Twitter profiles associated with art could all be added in one list titled art. Tweets from members added to this list would appear within that list. But other similar tweets, related to artistic content, will also appear within this list. Creating lists on Twitter is a great, fast way of having same kind of tweet content in one place. You can subscribe to other members' lists, too. There are multiple settings related to lists. This tutorial will cover every step for you on how to take various actions on Twitter lists.
Taking Actions on Twitter Lists
1. Sign in to your Twitter account from browser.
2. Click on Lists icon in left sidebar.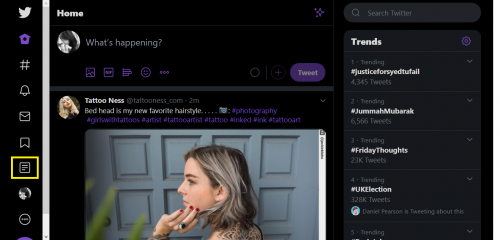 3. Click on any list you want to take action on.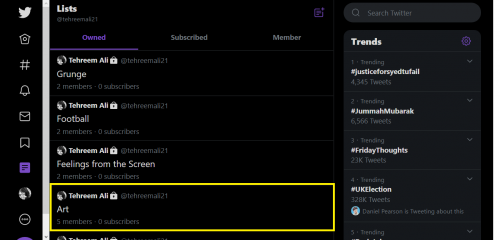 4. To edit a list, click on Edit List.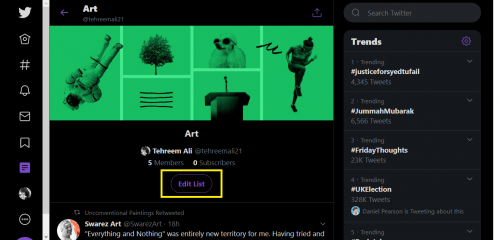 5. Under Name, keep the name of your list within 25 characters.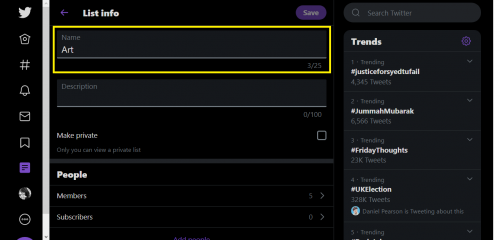 6 .Write a 100 characters' description under the second header.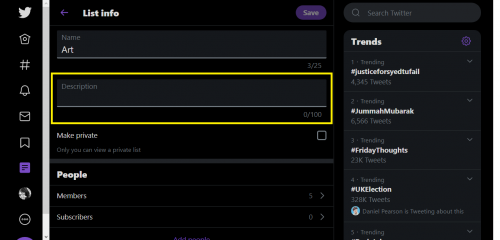 7 .To make a list private, select the Make Private option.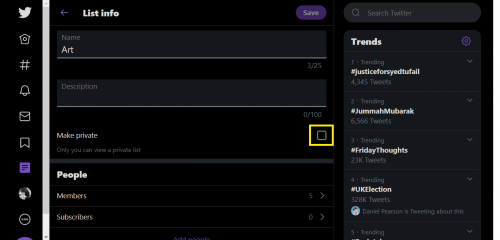 8. To see a list's member(s), click on Members.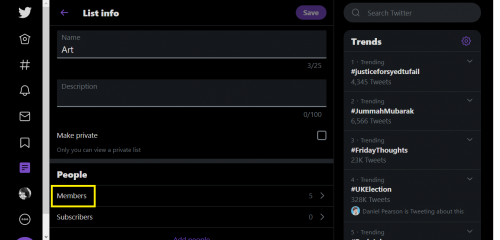 9. The number of members in a list appears as highlighted below.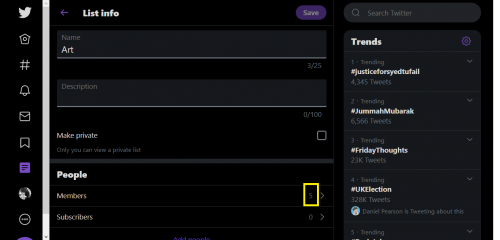 10. To remove a member, click on Remove.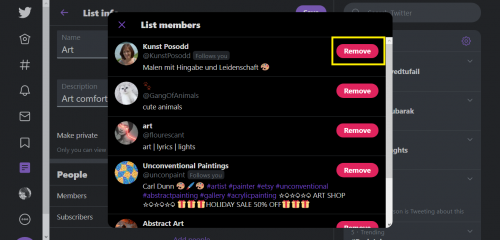 11. To view a list's subscribers, click on Subscribers.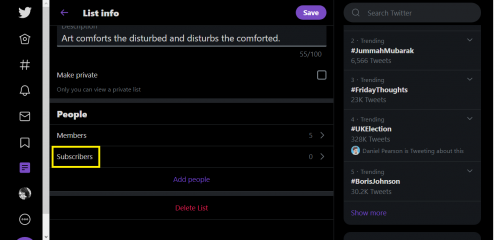 12. To add more members to a list, click on Add People.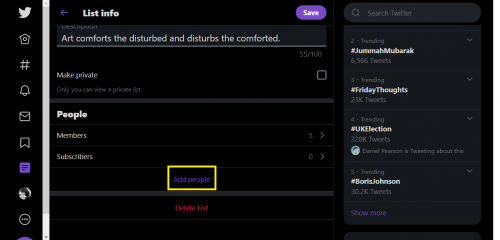 13. Type in the name of the member in search bar.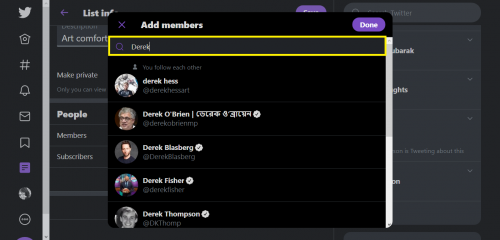 14. Tap on the member when it appears.
15. Hit done.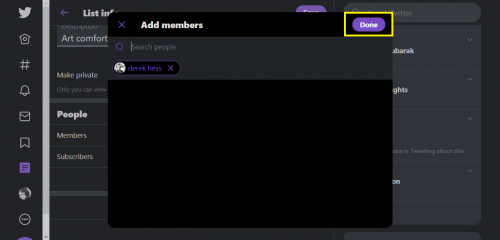 16. When you're done making changes, hit Save.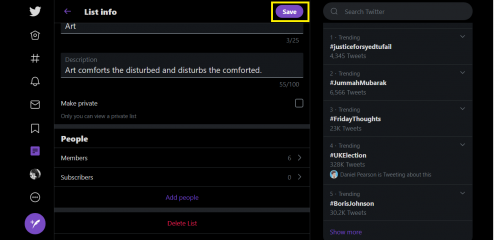 17. To delete a list, hit Delete list from the bottom.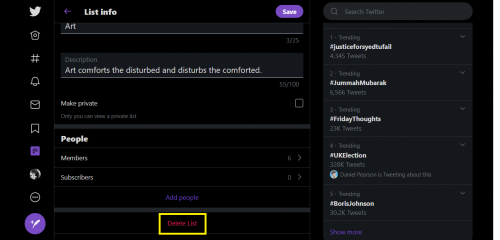 18. To view which lists you're subscribed to, click Subscribed.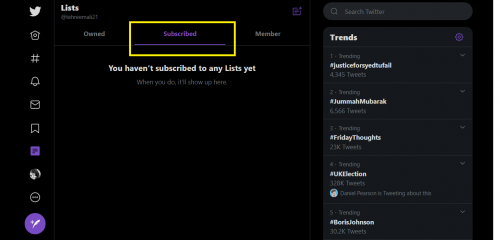 19. Go to Member to see who has added you in their list (s).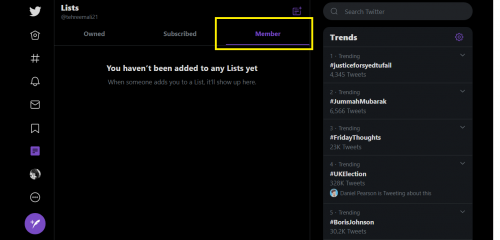 20.To create a new playlist, hit New List icon from top right corner.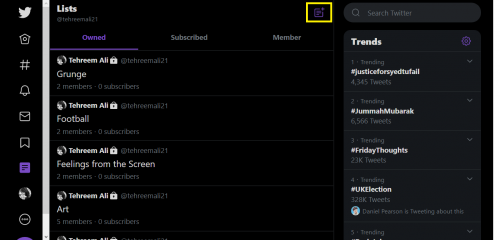 21. To take further actions, click on upload icon from top right corner.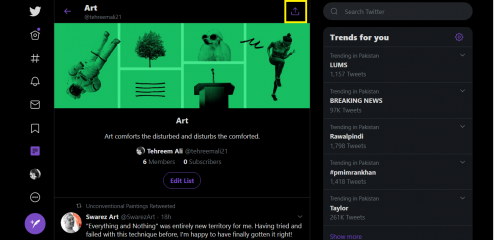 22 .Click on the desired option from drop down menu.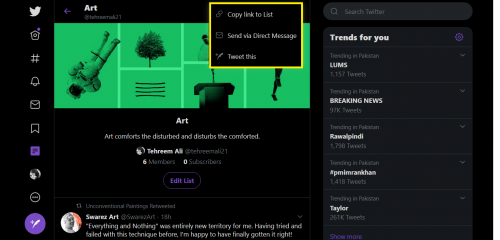 Twitter Lists- Browser versus App
Editing Twitter lists in browser is easier, navigation wise. On Twitter web, it doesn't read "remove" against a list member. There's only a cross against a member's name. You cannot copy a Twitter list's link from the app nor create a new list.
The 3 different sections, namely owned, subscribers and members, do not show in the app, but only in the web-based version of Twitter.
Frequently Asked Questions about Twitter Lists
1. How many Twitter lists can I create?
Upto 1,000.
2. Will I get notified when someone adds me to a list?
Yes, but not if you're added to a privatist.
3. What's the point of a Twitter list?
It organizes your Twitter followers. You only see streamlined tweets from accounts in a list.
Related Content
Change your @ on Twitter – Choose a Unique Twitter Handle
Tweet With Location On Twitter
Log Out Of Twitter Account On All Devices At Once