BlackBerry Bold: Transfer Pictures and Videos to a XP, Vista, or Windows 7 PC
Posted July 22, 2010 by David Kirk in Blackberry
What use is having all those wonderful pictures if you cannot transfer them back and forth between your BlackBerry and your Windows machine? These directions show how to setup your BlackBerry and Windows OS so that you can import and export media files easily.
1. From your Blackberry Bold go to Options
2. Next, select Memory
3. Set Mass Storage Mode Support to On
3. Change Auto Enable Mass Storage Mode When Connected to Prompt or Yes
5. Here is a screenshot of all these settings: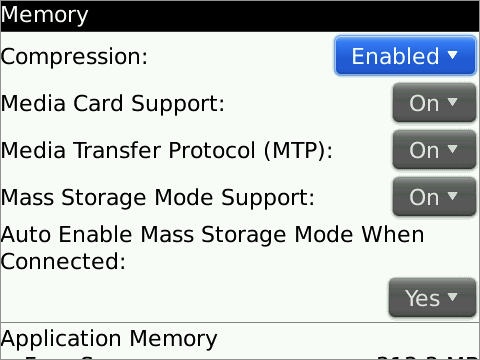 6. Connect your BlackBerry to your WIndows PC. XP, Vista, or Windows 7 operating systems all handle this the same way.
7. The Windows OS will probably install several drivers. Wait until it is done.
8. Now you should find your BlackBerry device listed under the Computer section (or My Computer on XP)
9. Click on the Blackberry and navigate to the videos or pictures folders
Here is how this looks in XP: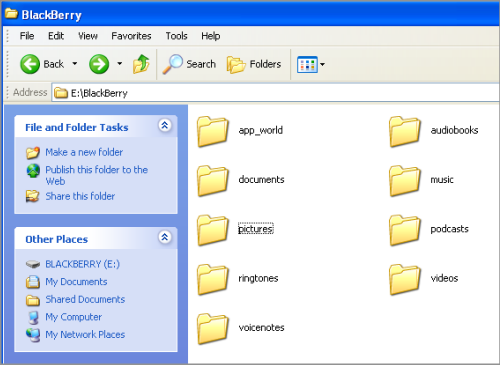 Here is how it looks in Vista/Windows 7: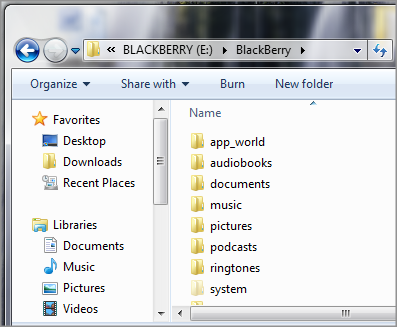 10. Drag and drop media in and out of these folders to exchange the files between your PC and your BlackBerry
David Kirk is one of the original founders of tech-recipes and is currently serving as editor-in-chief. Not only has he been crafting tutorials for over ten years, but in his other life he also enjoys taking care of critically ill patients as an ICU physician.
View more articles by David Kirk
The Conversation
Follow the reactions below and share your own thoughts.