Twitter is a great way to stay updated on friends, family, sites, businesses, news, etc. Unfortunately, it can quickly become quite noisy which makes it difficult to find the people that you really want to read about. By utilizing Twitter lists, you can quickly see the people you want while letting the rest ramble on without interfering with your reading.
1. Go to Twitter and login to your account.
2. At the top, click on Lists.

3. Select Create a list from the dropdown menu.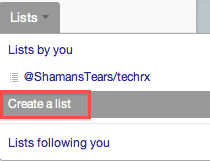 4. Input a name for the list, use something that you can quickly recognize.
5. Input a description (optional).
6. Select whether your list is to be Public or Private.
7. Click the Save list button.
8. When you get to the Find people to add to your list, go to the text beneath the search box and click the Following link to go to the list of people you follow.

9. When the list appears, locate a person you wish to add to the list. Click the associated list dropdown button (next to the Unfollow button) and check the desired list's checkbox to add them to the list. Repeat this step to add all desired people to the list.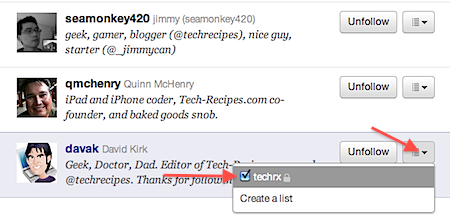 Once your list is built, you can now go to it instead of sorting through your long list of tweets on your homepage to get to the important stuff. Simply click on Lists at the top of the page and select your desired list which is found under Lists by you.
If you want to set up a shortcut to just go to the List's page, go to your list and click View list page.
Once there, bookmark the page and you're all set.
The people added to your list will remain on your homepage, so you can still see them there when your just browsing through all of the "noise".
You can build as many lists as you like, so you can use them to group similar people, businesses, news, etc.