Are you worried about losing your tweets on Twitter? Being a Twitter user myself, I am concerned about my account. In fact, I like to have a backup of all my personal digital data on the internet, including my tweets. To back up your tweets, you no longer need to depend on any third-party backup tool. Now, you can download your Twitter archive and back up all your tweets. This tutorial explains how.
Why should you backup your tweets?
It is possible that you your Twitter account could be compromised.
Twitter only allows you to view 3,200 of your most recent tweets. However, using your Twitter archive, you can view all of your old tweets.
With your archive, you can visualize the number of tweets by month as well as year.
You can easily search the archive with hashtags, @usernames, and keywords.
Download and use your Twitter archive.


1. Log in to your Twitter account. Click on the gear icon at the top right of the page, and choose Settings from the drop-down menu.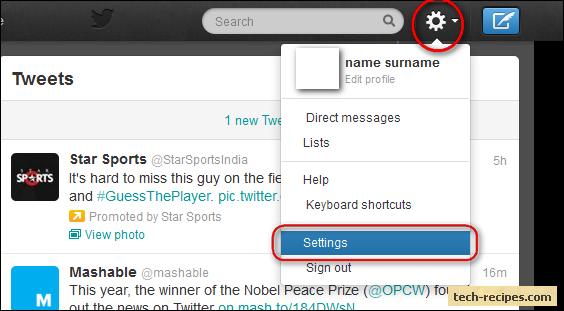 2. Scroll down to the bottom of the Settings page, and click on Request your archive. You will receive an email message which contains a download link for accessing your archive. Open the message. Then click the Go now button to download a .zip file containing your Twitter archive, or click the link provided.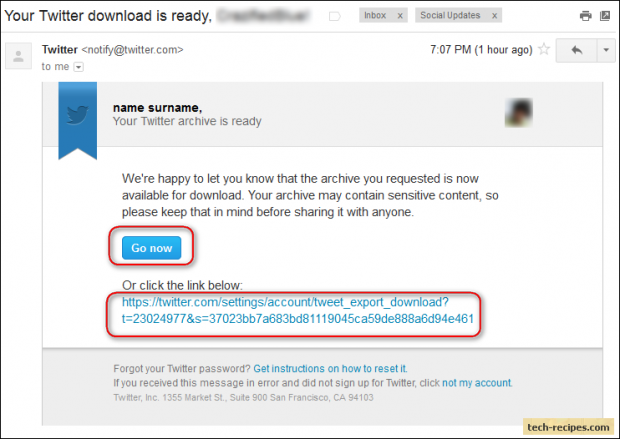 3. After downloading your .zip archive file, extract it, and go to your tweets folder. Open the index.html file.
4. The opened page will show your latest tweets. You can view tweets by month, and you can search your archive using @username, keywords, phrases, or hashtags which you included in your tweets earlier.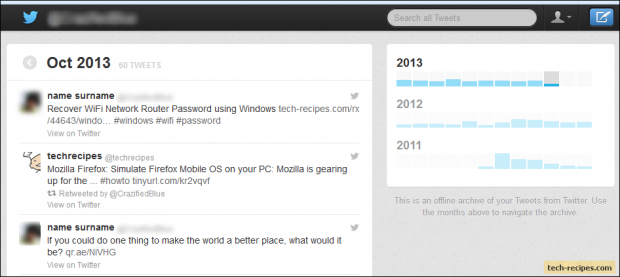 Do not forget to follow @techrecipes on Twitter to get more of the latest updates.