All of the changes that are going on with Facebook have some people concerned about what is getting posted to their wall. Spotify's integration with Facebook will allow it to post all songs you listen to your wall so your friends can check out your music choices. If you don't want people to know what you are listening to, you can disable this and they'll never know.
The Spotify-Facebook integration will allow your friends to see everything you are listening to: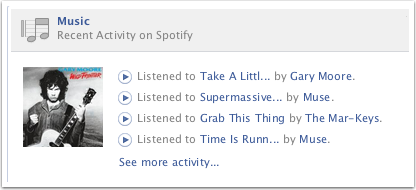 To disable these postings:
1. Open Spotify.
2. Go to Preferences (for Windows users, go to the menu, click Edit and select Preferences; for Mac users, go to the menu, click Spotify and select Preferences).
3. Go to the Facebook section. Uncheck the Get personal recommendations by sending music you play to Facebook's Open Graph checkbox.