By default, whenever you make changes to a Google Slides presentation stored on your Drive, the service will save revisions of that file so that you can restore it back to an earlier version in case something goes wrong. Continue reading to find out how to use it.
Unlike undo, which can only revert actions in one single session, the revision history of Google Drive can store files that you saved weeks ago. This feature is ideal when the undo feature cannot help you or when you make unnecessary changes to your file and want to revert to a previous version quickly.
Before you go back to an earlier version of the file, it is always a good idea to save the current file as a backup version or download it to your hard drive.
1. Log into your Google Drive account, and then open the Google Slide (or PowerPoint) file that you want to restore to an older version. If your PowerPoint file is opened in preview mode, go to Open With – Google Slides.

2. Once the slides are loaded, go to Files -> See revision history. Alternatively, you can press Ctrl + Alt + Shift + H.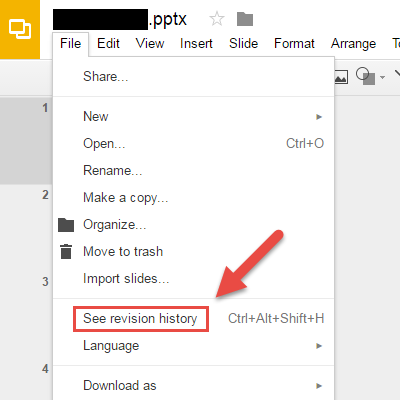 3. A small yellow vertical panel appears on the right side of the screen containing all of the saved versions of the current file. To view a revision, simply single-click on it. If you cannot find the file you need, click Show more detailed revisions at the bottom of the screen to see more.


4. To restore that version, first select it in the panel, and then select the Restore this revision button.
5. If the file is restored, you will see a small message at the top of the screen which reads Revision Restored: Today. The message will also show the time when the restoration occurred. If Google Drive cannot restore the file, check your connection, and try again.