Facebook recently released the ability to archive and download your entire Facebook account. This download includes your pictures, videos, friends, and wall posts. The inability to export information out of Facebook has long been a criticism of the service; however, this new features allows you to back up your Facebook information in case you ever wish to leave the service.

I am really glad that Facebook has released this feature. This provides a safe way for people to retrieve all their data if they ever wish to leave.
1. Click Account and then Account Settings in the upper right-hand corner of Facebook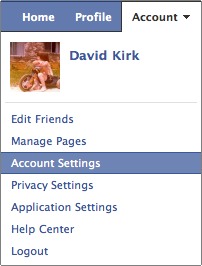 2. Under Download Your Information click Learn More

3. Click the Download button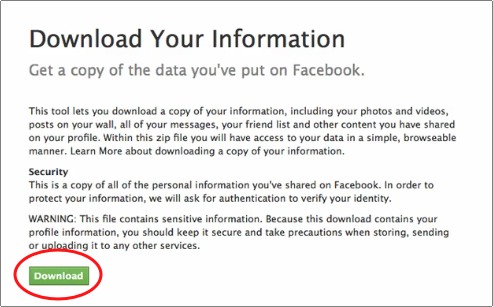 4. Under the Request My Download dialog box press another Download button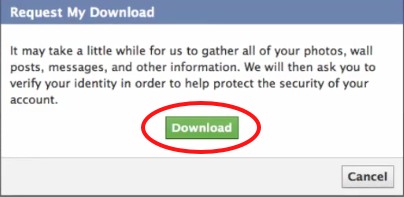 5. The dialog text will change to "You will receive an email when your archive is ready for download." Press the Okay button.
6. Check your email account for the download link and click it. You will be returned to facebook.
7. Verify your password and press the Continue button.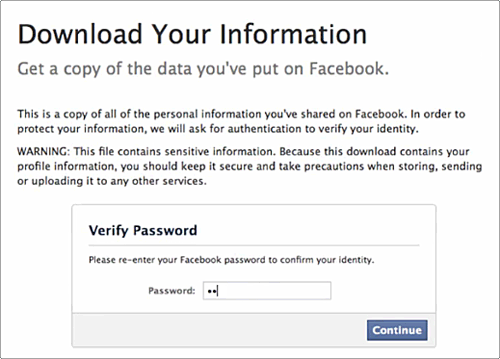 8. Press the Download Now button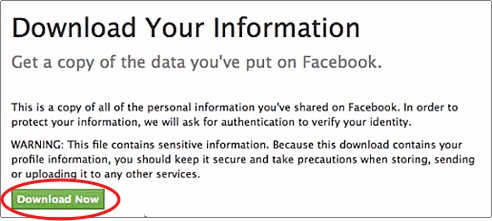 9. Your information will be downloaded as a compressed ZIP file. Double-click to decompress. Open the folder and double-click the index.html file to view your archived material in your browser. This information is stored locally on your computer.
By following these steps, you will have a complete history and archive of everything you have placed into Facebook.