When you upload a larger image as your profile picture on Facebook, the thumbnail version of it may not display the portion that you want. This tutorial shows you how to adjust the thumbnail to display the right portion without permanently cropping or editing the picture.
Frequently, good Facebook profile pictures are just small sections of larger pictures that had been uploaded for another reason. For example, maybe there is a picture of you with a wide landscape and maybe you want your profile picture to just show your face out of that image.
This allows you to display that small section of the picture as your profile without actually editing the image you are using.
1. Log in to your Facebook account.
2. Go to your profile by click the account name.
3. Move your mouse over the profile picture, and click Change Picture.

4. Click on the Edit Thumbnail link (under your picture)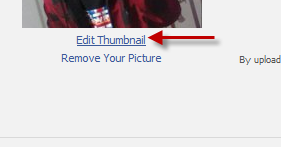 5. Click and drag the image until you are satisfied with the result. Hit Save to save the change.